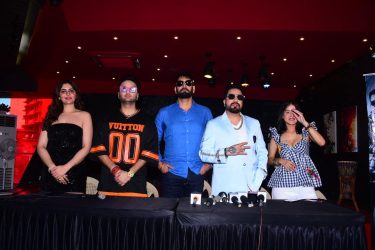 Ladies and gentlemen, it's now time to get ready for the song of the moment aka 'Jatt Bolda'. The song has been creating quite a good amount of buzz earlier when the promo was released and finally, it is now out for the audience to see and experience. The song was released on Music & Sound label on YouTube and other audio platforms. Within a very short span of time, the song has managed to create a lot of buzz among the fans and audience.
The song is presented by Mika Singh himself and it has been sung by none other than talented singer Jasbir Jassi who's famous and popular for tracks like Dil Lagi Kudi Gujarat Di, Kudi Kudi, Laung Da Lishkara & many more. The song launch happened in Mumbai in grand style and it was indeed a star-studded experience for one and all and the media. The launch took place in the presence of performing artistes like Jasbir Jassi, Sumit, Deepti Sadhwani, & DJ Ojo. Singer Mika Singh was specially present at the event to support singer Jasbir Jassi in his venture. He said,
"I am very happy for Jasbir. He is very dear to me and I have a lots of love for him in my heart. It was a pleasure presenting the song. The song has all the vibe of a good chartbuster and I am confident the audience will like it and find it as per their expectations. To be honest, ultimately, 'baap baap hi hota hai…' (laughs). So what I try do, there's my uniqueness which I feel nobody else can do. However, Jassi is very dear to me and I am always there wholeheartedly to support him so that he can create his own niche and space as a musician and artiste."
Singer Jasbir Jassi said,
"Well, the song is indeed very close to my heart. It is one of those tracks that's very close to my heart and I mean it from the bottom of my heart. To add to that, receiving Mika Paaji's support is absolutely a treat for me. In fact, Mika paaji is the one responsible for my comeback and he is the sole reason why I could return with this song. I love him to the core and he has always supported my vision as an artiste. This is a very emotional moment for me because this song marks my comeback and who better than Mika Paaji to have a grand comeback with. This feeling is surreal. I am confident that fans will be liking the track and will have a good time enjoying it."
The song 'Jatt Bolda' is currently streaming on YouTube and other audio platforms and in no time, it has opened up to big numbers. The music is given by Sumit Sethi who is no. 1 DJ of India. Stay tuned for more updates and keep supporting the team and the track.