Ullasini, the Embodiment of Joy and Devotion, Debuts at the 61st Bengaluru Ganesh Utsava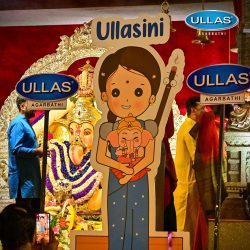 Bengaluru,September 24, 2023: The iconic Bengaluru Ganesh Utsava celebrations witnessed an unforgettable moment recently as Ullasini, the enchanting mascot of Ullas Agarbathi, made her grand debut. The unveiling of Ullasini was gracefully executed by Sri Ullas Kamath, Chairman of the FICCI Karnataka Council and Ex DMD of Jyothy Labs, alongside Mr. Lakshminarayan, Chairman of Jyothy Labs.
This significant event, held at the heart of Bengaluru, beautifully encapsulated the essence of culture, tradition, and unity. Embodying joy, enthusiasm, and togetherness, Ullasini stands as a beacon of Ullas Agarbathi's ethos.
Akin to the luminous spirit she symbolizes, Ullasini's unveiling was set amidst the magnificent backdrop of Lord Ganesha adorned with colourful decorations and the atmosphere reverberated with soulful bhajans. The mascot, draped in vibrant traditional attire, stole the limelight, leaving an indelible impression on the audience with her radiant smile.
About Ullasini: More than just a mascot, Ullasini is a spiritual guide and a reflection of unwavering devotion. Representing the heart of Ullas Agarbathi, she encapsulates the aromatic essence that is symbolic of reverence towards divinity, nation, spirituality, and culture. Ullasini embodies the deep-seated sentiments of spirituality and plays the roles of a scholar, sharing insights into rich cultural rituals, and a nurturing teacher imparting tales of god and nation to the younger generation.
With Ullasini, every spiritual journey is heightened, resonating with joy and dedication. As festivals mirror our cherished traditions, Ullasini bridges human emotions and cultural practices, unravelling the unique essence of each celebration.
Ullas Agarbathi encourages everyone to stay connected for more thrilling announcements from the 61st Bengaluru Ganesh Utsava.