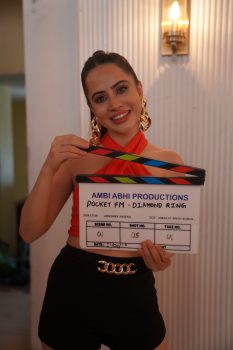 ~ Yeh Rishta Kya Kehlata Hai actor Rohan Mehra and Social Media Sensation Uorfi Javed play a couple in the promo of Pocket FM's blockbuster audio series Insta Millionaire. ~
The entertainment world never fails to surprise us with its intriguing pairings, some sweet and some downright unexpected. In a surprising collaboration, actor Rohan Mehra and Uorfi Javed, two charismatic stars, have come together for a project. Yes, you read that right! They're not teaming up for a web series or a TV show but for an audio series titled 'Insta Millionaire.'
The duo recently shot a captivating promo for 'Insta Millionaire,' causing a stir across social media platforms. In the promo, Rohan and Uorfi portray the characters of Lucky and Dimple, a couple with contrasting priorities. While Lucky is head-over-heels for Dimple, she is solely driven by her love for money. Their supposedly romantic journey takes an unexpected twist when a significant revelation comes to light, altering the course of their relationship. The promo has been directed by Abhishek Saxena (known for Phullu and Saroj Ka Rishta), whose upcoming directorial movie is titled 'Banda Singh' starring Arshad Warsi in the lead role.
Watch the Promo Here – https://youtu.be/cICS46oe6eQ
Actor Rohan Mehra, best known for his role in Yeh Rishta Kya Kehlata Hai, plays Lucky, the protagonist of Insta Millionaire in the promo. Sharing the promo on his social media account, Rohan expressed, "During my college days, I had a girlfriend for whom I would go to great lengths to make her happy. While I thought things would change after getting into a relationship, my efforts multiplied. Her lipstick expenses consumed my entire month's pocket money. Frustrated by my financial limitations and poverty, she left me to be with a wealthy young man. But this isn't a tale of despair. The story takes an unexpected twist when she discovered that the very same boy she chose as her partner now worked as my driver. I am Lucky, and you can listen to my captivating journey, 'Insta Millionaire,' on Pocket FM."
Insta Millionaire delves into the life of Lucky, a young man who defies the odds to carve his own path from humble beginnings. Despite facing numerous challenges, Lucky's unwavering character and selflessness remain unshaken. Even when betrayed by his girlfriend, he refuses to let it break him. But when an unexpected message turns his life upside down, Lucky finds himself facing an entirely new set of trials. Will he allow wealth to corrupt him or stay true to the values he learned during his hardships? Can he finally find happiness and love? To find out further, download Pocket FM.
Insta Millionaire will transport you to a world where dreams become reality and where the resilience of the human spirit conquers all obstacles. With Rohan and Uorfi at the helm, their chemistry and talent are sure to ignite the audio series wave in India, leaving listeners spellbound.