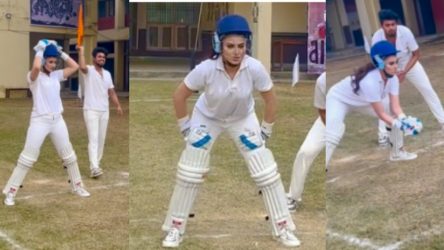 In the world of Bollywood, surprises and excitement often go hand in hand. Recently, the stunning Urvashi Rautela left her fans in awe by announcing her upcoming Bollywood film in a rather unconventional and exciting manner. The talented actress took to her social media platforms to share a video that features her in a proper cricket outfit, showcasing her cricketing skills. The announcement has left her fans eagerly awaiting more details about the movie and what it has in store for them.
Dressed in a cricket jersey and a proper cricketer look, fielding on the ground effortlessly displays her cricketing abilities while exuding confidence and charm. It's not every day that you see a Bollywood actress in a cricket outfit, and Urvashi's unique approach to announcing her film has garnered a lot of attention.
While the video is intriguing and captivating, the details about the movie itself are still shrouded in mystery. Urvashi Rautela has not revealed much about the project, keeping her fans and the media guessing. Taking to her social media, she captioned, "To New Beginnings, New Film".
https://www.instagram.com/p/CzGsyUMPcpS/
The cricket-themed announcement not only highlights Urvashi Rautela's dedication to her craft but also raises intriguing questions about the role she will be playing in the movie. Will she be portraying a cricket enthusiast, or is the sport just a thematic element of the film? Only time will tell, but one thing is certain: fans are eagerly anticipating more information about this exciting project.
As the anticipation continues to build, Urvashi Rautela's announcement has added a refreshing twist to the usual movie reveals in the world of Bollywood. Stay tuned for more updates on her movie and upcoming projects.