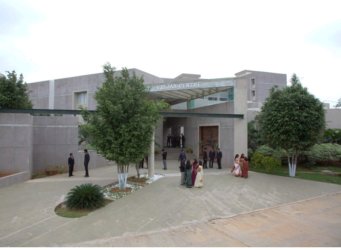 The cricket fever is back in Hyderabad with a loud bang, as the Hyderabad based premiere management institute, Vignana Jyothi Institute of Management, (VJIM) as it completes 30 years in offering quality education, in association with The Hindu Future India Club (FIC) launches the T10 cricket tournament in three regions of Andhra Pradesh and Telangana from Feb 17th 2023.
According to Dr. Ch. S Durga Prasad, Director of VJIM, "The T10 tournament has been organized for undergraduate students and young cricketers to demonstrate their skills in the field. Something like this is being organised for the first time post pandemic as an opportunity for the students community to once again participate in big tournaments and compete on a larger scale. This will also help us in identifying a cricketing talent pool which can be nurtured for the future by providing better facilities and support, both in sports and studies. Colleges from Hyderabad, Vijayawada and Visakhapatnam participated in large numbers and we already have over 900 students from 64 teams, 32 from Hyderabad, 16 each from Vijayawada and Visakhapatnam, each consisting of 15 players. Who knows at the end of the tournament we might see a few budding cricketers coming up!"
The action packed tournament will witness four matches played every day over a period of one week. All matches are of the "knockout" format and there will be 10 overs per innings. Students from colleges in Hyderabad, Vijayawada and Visakhapatnam will participate in the tournament, with the venue being Pallavi Model Schools at Hyderabad, Alwar Das grounds (M.V.P. Colony) in Visakhapatnam and V.R. Siddhartha Engineering College at Kanuru Vijayawada.
The winning teams from Visakhapatnam and Vijayawada will play for AP Finalists and the tournament grand finale, scheduled on February 26, will be played between the Hyderabad finalist and AP finalist in Hyderabad.
Alongwith Vignana Jyothi Institute of Management (VJIM), two more institutes contributing are – Pallavi Model Schools, Hyderabad and V.R. Siddahartha Engineering College at Vijayawada as the venue partners.
VJIM, one of the oldest and most popular Business Schools of Hyderabad offers a 2 year full time PGDM Program in Business Analytics, Human Resource management (HRM), Finance, Marketing, Operations Programme. Applications now open. The placements for 2021-23 batch of management students was completed successfully where more than 100 recruiters visited campus and 95% students were placed  till Jan 2023. Top recruiters for the batch 2023 had been Adani Wilmar, Amul, EGON Life, Big Basket, Berger, City Union Bank, Deloitte, ICICI Prudential, Godrej, ICICI Bank among others.
This T10 tournament was conceptualized keeping in mind the IPL 2023 & WPL 2023. IPL 2023 will commence from Mar 31st, 2023 where a total of 10 teams shall fight it out in 2 groups of  5 each to be played in 10 different stadiums across the country. This year's IPL matches will be played in Ahmedabad, Mohali, Lucknow, Hyderabad, Bengaluru, Chennai, Delhi, Kolkata, Jaipur, Mumbai, Guwahati and Dharamsala.