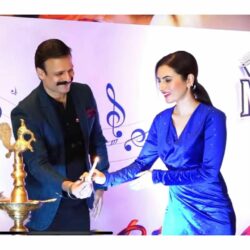 An example of unconditional love, Rangreza is a recently released music video that is getting popular day by day. Actress Anusmriti Sarkar who plays the lead role in this song has garnered tremendous amount of love and appreciation for her performance in this project. She is playing a character who is deaf and dumb. Amongst all the praises, Vivek Oberoi and Rakesh Roshan too came to appreciate her work.
On one hand, where Rakesh took it to his twitter to praise the actress, Vivek did it during his media interaction session. Her performance was encouraged!
My best wishes for the song "Rangreza " which is available on Music Garage & all the luck to the star cast Anusmriti Sarkar and Anuj @AnusmritiSarkar @Anujsaini #Rangreza #MusicGarage #AnusmritiSarkar #AnujKapadiya

— Rakesh Roshan (@RakeshRoshan_N) November 17, 2021
https://www.instagram.com/p/CWXmA2-D7aM/?utm_medium=copy_link
Anusmriti is an extremely talented girl who knows her craft very well. Playing this kind of a role was challenging for her. In an interaction she says, "I was scared in the beginning how would I could carry this role. But after hearing what Rakesh Roshan sir and Vivek Oberoi sir said about my work, I have gotten altogether a new boost. It has inspired me to more work! I thank both of them from the bottom of my heart for such a warm remark. Also, thanks to each one who supported us!"
We wish Anusmriti much luck and success ahead.