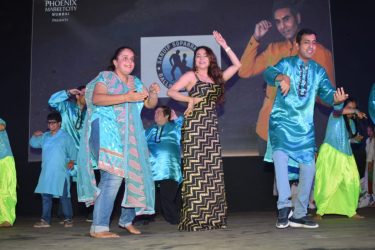 Sandip Soparrkar's India Dance Week Season 7 reached its pinnacle on April 30th, 2023, with a mesmerizing grand finale that left the audience spellbound. The spectacular event, sponsored by Phoenix Market City Kurla and India Fine Arts Council, showcased the rich diversity of dance forms and brought together exceptional talent from across the country. Amidst the captivating performances, one stood out for its heartfelt message and inspiring display of inclusivity.
Renowned Actress Nikita Rawal took the stage alongside a group of special children, creating a truly remarkable and touching performance. The grand finale was a celebration of dance, culture, and charity, and Nikita's collaboration with the special children added a profound layer of emotion and connection.
The evening unfolded with an electrifying ambiance as the lights illuminated the stage, setting the perfect backdrop for the performance. Nikita Rawal's graceful movements and infectious energy blended seamlessly with the special children, showcasing their passion for dance. Together, they flawlessly executed a choreography that conveyed joy, unity, and the boundless possibilities that dance offers.
Sandip Soparrkar, the visionary choreographer behind India Dance Week, was deeply moved by the performance. He expressed his admiration for Nikita Rawal's dedication to dance and her heartfelt commitment to inclusivity. Soparrkar believes in the transformative power of dance and strives to create platforms that embrace diversity and bring people together through the universal language of movement. Through their mesmerizing performance, Nikita Rawal and the special children showcased the resilience and talent within this community, breaking down barriers and inspiring others to embrace inclusivity.
The event was made possible through the generous support of Phoenix Market City Kurla and India Fine Arts Council, whose commitment to the arts and social causes played a crucial role in bringing the grand finale to life.
As the applause filled the air, the audience showered Nikita Rawal and the special children with admiration and appreciation for their unforgettable performance. Their collaboration became a beacon of hope, spreading the message that every individual, regardless of their abilities, has the power to shine and make a difference.
Nikita Rawal's heartfelt performance at Sandip Soparrkar's India Dance Week Season 7 will forever be etched in the hearts of those who witnessed it. The grand finale served as a reminder of the transformative power of dance and the beauty of inclusivity.