inspires one and all with her knowledge & expert advice by creating a wonderful platform called "Marvelous Mrs India".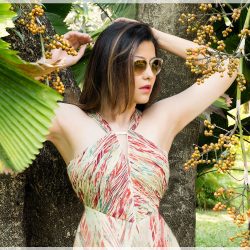 When it comes to the Indian entertainment industry, we do talk about a lot of women and their beauty. However, the very moment when the phrase 'beauty with brain' plays in our mind, Aditi Govitrikar is by far the first name that hits our mind. She's a successful actress, medical doctor, psychologist and supermodel and well, no wonder, the timeless diva has seen the best of both worlds. The kind of journey she's had in her professional space is extremely inspiring for everyone who sees her work and well, she keeps getting better at it. While in the past, she's been part of many initiatives which have been educational and relevant for society, once again, she's become a trendsetter when it comes to talking about the topic of mental health for married women, a subject which isn't a very popular topic in today's time for insightful and engaging conversations. Through her special initiative 'Marvelous Mrs India', Aditi leads by example when it comes to setting a new benchmark for empowering married woman. From taking up special initiatives that improve their self-worth and confidence to doing her bit for ensuring their mental health, the actress does it all. Not just for married women in general readers, Aditi has been doing a special 'Mental Health' series with Morisons Baby for those married women who are also expecting mothers. The series has been talking about various important aspects around the mental health of women and their pregnancy stage. From talking about the importance of sleep routine to other stuff, the series is your go-to content for anything regarding expecting mothers. Aditi's knowledge and experience has helped innumerable expecting mothers breathe a sigh of relief during this crucial period of their life. Regarding the efforts for making normalising conversations around the mental health of married women, Aditi shares and we quote,
"Well, mental health for married women is a conversation that still needs a lot of attention in our country. Different women go through different kinds of stress. While some are worried about how they match up to the expectations of their in-laws, some feel worried and anxious about their first baby, delivery and the pregnancy stage. Some find it difficult to maintain a balance between personal and professional life. Still today, a lot of women have to compromise and leave their work for their home duties. While many women don't talk about it openly, it does take a toll. That's why, I decided to come up with Marvelous Mrs. India. Like the name suggests, it is an effort to make every married woman feel that they are marvelous just the way they are and there's still a lot they can do and achieve even after marriage. In a way, it also promotes and encourages their mental health in the right direction and it is my way of doing my bit to make these women feel happy and confident. Also, apart from my initiatives for married women in general, I also feel importance of mental health for expecting mothers is immensely important."
Well, kudos to Aditi for being in the forefront of such a beautiful initiative and inspiring everyone with her amazing content and knowledge. This certainly proves the fact that not only is she a successful actress, but also a respected mental health advocate whose words of wisdom are taken seriously by one and all. Here's hoping that she continues to inspire people the way she has been doing in all these years as we love it. Stay tuned for more updates.