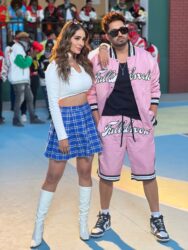 Alankrita Sahai is on roll! Delivering hit after hit, she has taken her acting skills to the next level. After giving a splendid performance in her recent blockbusters P PAA K and Attention, the beauty queen has released details of another music video called 'Gabru'. She will play the lead role in this Jassi Gill music video and will take the song to a great height.Actress Alankrita Sahai is ready to hit the charts with her upcoming music video, which they shot on 12th of February and will release soon.
Super model and glam queen Alankrita Sahai will appear with Jassi Gill in the music video after their last song together 'Allah Ve'.She talks about the storyline, saying ," It's a fun and peppy track of two highschool sweethearts. The lyrics are just great and I'm sure it's going to be a favorite of all."
Miss Diva Earth 2014 and actress Alankrita Sahai is riding high on the success of her latest songs and is sure to hit hattrick with this new song. In addition to her acting career, Alankrita is also known for her appearances in Punjabi hit songs, including "Coka", where she looked stunning in western attire. With "Gabru", Alankrita is sure to once again captivate audiences with her beauty and musical talent.