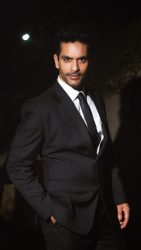 Angad Bedi, whose latest project Lust Stories 2, an anthology is out, feels that for a successful marriage along with love, lust also plays an important role. In his segment Made For Each Other, a young couple, played by Angad and Mrunal Thakur, were suggested to go on a 'test drive' for sexual compatibility. Angad feels sexual compatibility is a very important point that is hardly spoken about.
Angad says, " For a healthy marriage along with love, it is also important to have healthy sexual compatibility too. In today's time and age, we still hesitate to speak about it, but there are so many marriages which have fallen apart because of sexual incompatibility. In our society, lust is a very misunderstood word, but it is an important part that strengthens the bond between a husband and wife."
Angad's segment Made For Each Other is directed by R. Balki and also stars veteran actor Neena Gupta in an important role. The show is currently streaming on Netflix.