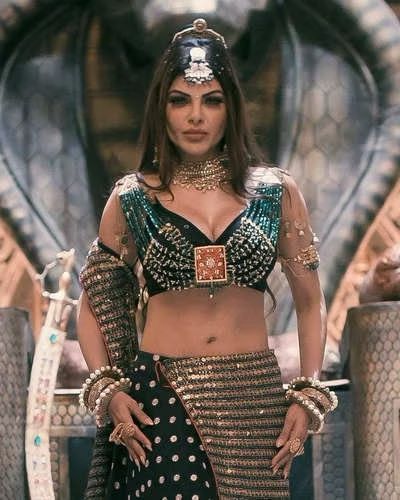 The anticipation for the second season of the hit series "Paurashpur" reaches new heights as ALTT introduces the charismatic and versatile actress, Sherlyn Chopra, as the enchanting Maharani Snehlata. The upcoming installment promises to be an enthralling journey into the world of power, politics, and passion, and Sherlyn's portrayal of the fierce and regal character adds a new dimension of intrigue and allure.
In the first look teaser of "Paurashpur 2," Sherlyn Chopra's transformation into Maharani Snehlata is nothing short of breathtaking. Dressed in opulent royal attire, Sherlyn exudes elegance and grandeur, embodying the essence of royalty. Her expressive eyes, laden with determination and mystery, hint at the complexities of the character she is set to portray.
With her radiant charisma and magnetic presence, Sherlyn Chopra effortlessly brings Maharani Snehlata to life. The actress's undeniable acting prowess and ability to seamlessly immerse herself in her roles have made her a standout performer in the industry. As Maharani Snehlata, Sherlyn is poised to deliver a compelling performance that will leave audiences captivated.
The character of Maharani Snehlata is an enigma within the kingdom of Paurashpur. A woman of immense strength and intelligence, she defies the conventional norms of her time, challenging the patriarchal society she inhabits. As she navigates the intricate web of power dynamics and political intrigue, she also grapples with her own desires and vulnerabilities, making her character all the more intriguing and relatable.
Sherlyn Chopra's portrayal promises to be a revelation, showcasing her range as an actress. Known for her bold and daring persona, Sherlyn's interpretation of Maharani Snehlata is expected to be a perfect blend of sensuality and regal sophistication. As she delves into the character's psyche, viewers can expect an emotionally charged and gripping performance that will keep them invested in Maharani Snehlata's journey throughout the series.
Sherlyn expressed her excitement about taking on the challenging role, stating, "Playing Maharani Snehlata has been a transformative experience for me. The character's depth and complexity pushed me to explore new facets of my acting abilities. It is an honor to be part of a series that celebrates strong and empowered women, and I am eagerly looking forward to the audience's reaction."
ALTT, renowned for its groundbreaking content and commitment to innovative storytelling, is leaving no stone unturned to ensure that "Paurashpur 2" becomes a monumental hit. The streaming platform's dedication to providing viewers with high-quality entertainment is evident in the meticulous attention to detail seen in the teaser of Sherlyn's Maharani Snehlata.
As fans eagerly await the release date announcement for "Paurashpur 2," one thing is certain: Sherlyn Chopra's portrayal as Maharani Snehlata will be nothing short of spectacular. Her stunning, seductive, and royal depiction of the character is sure to leave a lasting impression on audiences and keep them eagerly glued to their screens.