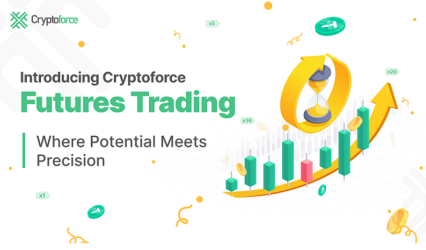 Cryptoforce, a trailblazer in the world of digital asset trading, proudly announces the launch of its perpetual Futures Trading platform. With this innovative offering, Cryptoforce India has set the stage for a new era of trading possibilities in the rapidly evolving cryptocurrency landscape.
What is Perpetual Futures trading?
Perpetual Futures Trading allows traders to capitalize on the immense potential of the cryptocurrency market. Unlike traditional futures contracts, perpetual futures do not have an expiry date, allowing traders to hold their positions indefinitely. This unique feature provides a level of flexibility and convenience that was previously unattainable in the futures market.
Cryptoforce's perpetual futures trading platform offers traders access to a wide range of digital assets, enabling them to diversify their portfolios and take advantage of the ever-changing market dynamics. Furthermore, the platform is built with state-of-the-art technology, ensuring fast and secure transactions while delivering an unparalleled user experience.
"We are incredibly excited to launch our perpetual futures trading on our platform," said the founder of Cryptoforce, Rahul Agarwal. "Our team has worked tirelessly to develop a cutting-edge solution that empowers traders to tap into the remarkable potential of the cryptocurrency market. With our perpetual futures offering, we aim to redefine the trading landscape in India and beyond."
Cryptoforce's Perpetual Futures trading platform boasts several groundbreaking features, including:
Competitive Fees: Cryptoforce India offers some of the most competitive trading fees in the industry, ensuring that traders can maximize their returns while minimizing costs.
Upto 20x Leverage: With the option to trade with leverage up to 20x, traders can capitalize on even the smallest market movements to optimize their profits.
Advanced Risk Management: The platform offers a sophisticated risk management system, allowing traders to set stop-loss and take-profit orders with ease, providing a safety net in the volatile world of cryptocurrency trading.
Seamless Trading Experience: With an intuitive user interface and advanced trading tools, Cryptoforce's perpetual futures trading platform is designed to cater to both novice and experienced traders.
As the cryptocurrency market continues to mature, Cryptoforce India remains committed to staying ahead of the curve by providing innovative and accessible trading solutions. The launch of perpetual futures trading is a testament to this commitment and a crucial step in the company's ongoing mission to make digital asset trading more accessible, secure, and profitable for all.
About Cryptoforce
Cryptoforce India was founded as a front-runner among the cryptocurrency exchanges in India. It aims to make a breakthrough in the field of cryptocurrency investment. Over the years, it has expanded its products and services, such as digital asset trading, wallet, spot trading, quick swap, technical solutions, education, and more. It has established its presence in the country by listing 129+ tokens and 13+ blockchains.
The platform offers a range of services, including spot trading, futures trading, coin swapping, technical solutions, education, and more. Cryptoforce India is popular for being the quickest and most trusted crypto trading app for both early investors and professional traders.