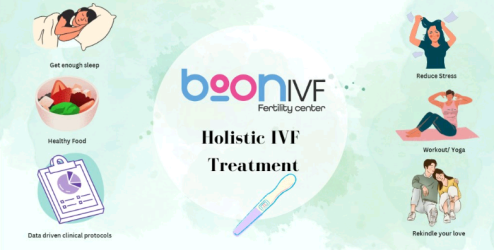 Boon IVF, headquartered in Hyderabad, India, is spearheading a paradigm shift in fertility treatment. Their innovative holistic approach, a departure from traditional methods focused on medical procedures, leverages personalized care, evidence-based research, and a holistic approach to fertility problems. This pioneering method not only helps in enhancing outcomes for people seeking IVF but also can reduce stress levels for couples on this transformative journey.
Boon IVF, a distinguished fertility centre in Hyderabad, boasts a team of highly qualified fertility experts. These specialists, hailing from esteemed institutions such as AIIMS Delhi and Osmania Medical College, employ cutting-edge research, evidence-based medicine, and data-driven approach. This strategic blend of expertise has resulted in commendable success rates, positioning Boon IVF as a leading force in the field of fertility care.
Within Boon IVF's holistic IVF treatment, they meticulously consider and address six crucial factors such as:
Personalized IVF treatment: Tailored to individual patient conditions, this ensures the most effective and suitable treatment plan for each person's unique needs.
Nutrition Counselling for Fertility Wellness: They offer guidance on the right dietary choices to optimize health and support the fertility journey, enhancing the chances of success.
Fertility yoga sessions: Specialized yoga sessions designed to promote physical and mental well-being, complementing the IVF process.
Stress Reduction Counselling: They provide essential support in managing stress levels, a critical aspect of optimizing the chances of a successful IVF journey.
Happy Sessions: These sessions are dedicated to fostering a positive mindset, crucial for maintaining a hopeful outlook during the IVF treatment process. This aspect of the treatment aims to strengthen the emotional bond between partners, contributing to shared happiness and support.
Fertility awareness and lifestyle modifications: We recognize the value of bringing complete awareness to couples about factors affecting the fertility and support them in modifying their lifestyle. We support couples to mutually support each other during any fertility treatment.
Boon IVF's pioneering approach to fertility care offers a comprehensive and supportive experience for patients, redefining the landscape of fertility treatment in India.
Dr. Sita Garimella, fertility expert leading the Boon IVF team talks about a recent WHO report mentions that 1 in 6 worldwide experience infertility issues. Our team is pioneering with holistic treatment with a data-driven approach which can help improve outcomes and create a happy environment for couples undergoing fertility treatments'.
For further information, please reach out to:
The Boon IVF & Fertility Center
Contact No: +91-8977008958