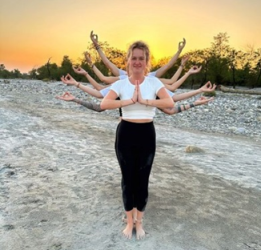 Rishikesh, India – As the festive season approaches in India, Yoga India Foundation invites individuals to embrace the true essence of celebration by integrating the art of yoga into their lives. With deep-rooted traditions, vibrant customs, and joyful gatherings, festivals in India are a time of spiritual renewal and family bonds. Yoga adds a dimension of holistic well-being that enriches these cherished moments.
The Gift of Inner Serenity
The festive season often brings with it a mix of joy, excitement, and occasional stress. Yoga provides a sanctuary of serenity, offering a haven of inner peace amidst the whirlwind of celebrations. The practice of yoga, with its focus on mindfulness and relaxation techniques, empowers individuals to navigate the season with a tranquil and composed mind.
Nurturing Body and Soul
Yoga's physical postures and exercises play a vital role during festivities, helping maintain physical vitality. As individuals indulge in delectable dishes and sweet treats, yoga assists in maintaining a healthy balance. Through yoga asanas (postures), practitioners can bolster their bodies, enhance flexibility, and harmonize the body-mind connection.
Family Unity and Connection
Festivals in India are synonymous with family reunions and heartfelt connections. Yoga, when embraced as a family or group activity, fosters a sense of unity and togetherness. It encourages shared experiences, bonding, and lasting memories that strengthen the family's relationships.
A Mindful Approach to Celebrations
Yoga's holistic philosophy promotes mindfulness and self-awareness in all aspects of life, including diet and interactions. This harmonizes with the festive spirit and encourages a thoughtful and moderate approach to celebrations.
This festive season, individuals are invited to embark on a holistic wellness journey with Yoga India Foundation. Located in the heart of Rishikesh, India, the school offers a range of yoga programs, including Yoga Teacher Training in India. From the foundational 200 Hour Yoga Teacher Training in India to more advanced courses, participants have the opportunity to explore the timeless wisdom of yoga and gain the skills to share this ancient practice with others.
Celebrate the festive season with a newfound sense of wellness and transformation. Let Yoga India Foundation be your guide on this yoga journey. Visit our website to explore our offerings and set the course for a balanced and harmonious celebration.
Contact Information:
Yoga India Foundation
Address: Nirmal B Block, Visthapit, Pashulok, Rishikesh , Uttarakhand, India, 249202
Website: https://yogaindiafoundation.com
For media inquiries, please contact:
Swami Bipin Ji
Founder
Email: yogaindiafoundation@gmail.com
Phone: (+91) 9410382099
About Yoga India Foundation:
Yoga India Foundation is a renowned Yoga School located in the spiritual heart of Rishikesh, India. The school is committed to preserving and sharing the ancient wisdom of yoga with the world. Offering Yoga Teacher Training programs and a variety of yoga courses, Yoga India Foundation invites individuals to embrace the transformative power of yoga. Visit Website Link for more information.