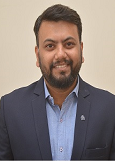 Digital learning, despite the late arrival in India, is being accepted well. In the last couple of years, the country has witnessed the success of other nations, which implemented digital learning and expanded their education systems. The pandemic has provided an impetus. It is said that the social environment has a significant impact on learning, and it is in the best interests of individuals to be connected to the progress in order to increase their opportunities. In this direction, the Ministry of Human Resource Development (MHRD), GoI has been implementing various schemes to encourage functioning of digital learning platforms across the nation. However, rural areas must be cognizant of digital learning and incorporate it into their educational programs.
The aim of digital education is to enhance learners' knowledge for greater achievements. Efforts are underway to provide premium e-learning to residents across the country using e-resources and new platforms effectively. The internet is crucial for providing learning resources, and India's growing economy offers opportunities for innovative service providers. The acceptance of digital learning in India is still in the experimental stage, and mindsets are slowly changing from traditional learning to digital learning. Corporate houses and the business sector are offering digital courses and training certificates contributing positively to this shift. EdTech companies are providing user-friendly learning programs, facilitated by mobile technologies and smartphones, are adding to the digital learning.
Digital learning expands the existing education system and provides a better learning experience. It can bring light to education in rural areas and be a valuable addition to classroom teaching. The Indian government has introduced up-skill programs to enhance learning, and digital learning complements and fuels these initiatives. Digital education offers various benefits to all the stakeholders. Academic institutions can save time and money, assess results quickly, and enhance knowledge transfer through advanced technology. Learners can access pre-recorded videos, submit assignments, prepare projects online, and have convenience in exams and result viewing. Teachers can manage classes efficiently and access relevant information.
There are many barriers to achieving optimal digital learning. One of the critical challenges for digital education in India include infrastructure limitations, such as poor connectivity in rural areas and a lack of funds for upgrading and maintaining digital equipment. There is also a shortage of trained teachers who are proficient in digital technology. Language and content pose challenges, especially in a country with diverse languages. The lack of standardization and quality control in online content is also a concern. Though it's a challenge to measure the success of e-learning, but the researchers are continuing to work on developing measurement criteria.
In an era of unprecedented expansion, digital learning opens up opportunities for the learning environment for everyone, and is integrated with the business ecosystem. Digital learning has the potential to transform education in India, but challenges remain. The government, educational institutions, teachers, and other stakeholders must work together to overcome these challenges and embrace digital learning. With the right infrastructure, trained teachers, and quality content, digital education can provide accessible and effective learning opportunities for all. It can be concluded that the digital learning market is expected to grow significantly in all the corners of the country in the coming years.
Dr. Ashish Kumar Biswas, Assistant Professor, MBA, NMIMS, Hyderabad.