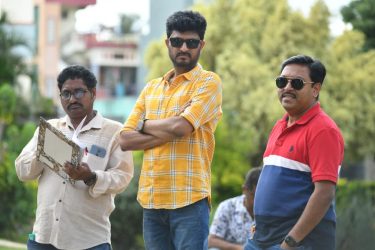 The production of the highly awaited film 'Engagement,' starring Praveer Shetty and Aishwarya Gowdaa, has ended. Raaju Bonagaani, a seasoned screenwriter in the Telugu industry, is prepared to create another masterpiece with his team and his hard-earned experience in the entertainment industry. The crew has made certain that there is no room for error. Bringing you by Rhodium Entertainments under the banner of Suram Movies.
'Engagement' stars Rajagopal Iyer, Balraj Wadi, Bhavana, Rajanisri Kala, Sharad Verma, Deepti Gupta, Sujay Ram DJ, and many more. Everyone has gone above and beyond to make the picture a smash hit. And allowing audiences to witness an exceptional love story.
While Aishwarya Gowdaa, who played the heroine, delivered an unusual performance, she pledged to deliver another emotional performance that would transport the audience into a universe of sensations and narrative. Praveer Shetty, who plays the film's hero, has contributed depth and realism to his portrayal. They will bring a crazy romantic experience to your home thanks to their onscreen chemistry.
The actors did their jobs well, but the rest of the cast and crew did as well. Venkat Mannan, the cinematographer, has created an amazing sight experience with his attention to detail. The film was shot in several locations in India, displaying the country's diversity and beauty. Chennai, Hyderabad, Mumbai, Goa, Coorg, and Chikmangalur are among the cities represented. Their beauty has been beautifully portrayed. The team has travelled far and wide to capture the spirit of love and life in varied settings, from the peaceful beaches of Goa and beautiful landscapes to the hectic streets of Mumbai.
'Engagement' was produced by Jayaram Devasmudra and co-produced by Lakshmikanth N. and Narayan Swamy S. under the banner of Suram Movies with Rhodium Entertainments. The other crew members who worked tirelessly to bring this movie to life are, music composers Dilip Bandari and Rajat Ghosh, the duo responsible for giving soulful tracks, excellent dance moves by Raj Paide, Dragon Prakash, behind the fight sequences, the designer dresses by Lucky, PRO Rahul, co-director Nagraju Deshavat, art director Venkesh Aare and editor Ravi Kondaveeti responsible for giving a flawless experience.
The filming took place between August and September. The post-production phase is already in full flow, with more updates to come. Jayaram Devasmudra complemented Raaju Bonagani for finishing the shoot on time without affecting the quality or plot. Witness an incredible love story, a film for viewers of all ages. 'Engagement' will be released in a variety of languages, ensuring a variety of viewers. With this talented and inventive cast and crew, 'Engagement' is sure to leave a mark on your heart.