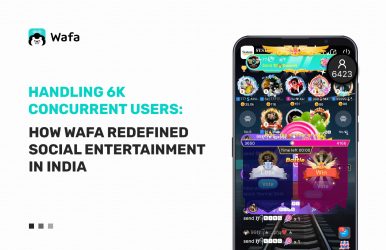 India's online social landscape has witnessed a seismic shift with the trailblazing voice-based app, WAFA, which recently achieved an unparalleled milestone by accommodating 6,000 concurrent users in a single chat room. This accomplishment by WAFA not only underscores its technological prowess but also reaffirms its leadership position in India's burgeoning online entertainment sector.
Based out of Bangalore, LVE Innovations, the company behind WAFA, has with this feat undoubtedly charted a new course in the domain of online entertainment. Their latest event, dubbed the "Voting Battle", pitted two well-known users in a virtual face-off, drawing spectators from across the nation. Despite the massive turnout and real-time interactions, WAFA's adept team ensured a seamless and secure experience for all attendees.
WAFA's recent successes serve as a testament to its robust technological foundation, which is purpose-built to offer unmatched social and entertainment services. This commitment has cemented WAFA's reputation as a leading light in India's digital social sphere.
The platform's popularity is burgeoning, evidenced by its burgeoning user base in states such as Maharashtra, Delhi, Rajasthan, Tamil Nadu, Telangana, Gujarat, and Karnataka. This growth is catalyzed by innovative features, transforming how Indians interact online. WAFA's new suite of paid offerings, including personalized gifting and theme customization, adds a layer of intimacy and interest to online interactions, catering to users who crave a unique digital touch.
With the capability to manage a colossal number of users simultaneously in one chat room, WAFA's dedication to delivering an exemplary user experience is evident. This commitment, paired with continual innovation, positions the app at the forefront of India's online entertainment revolution. As WAFA's trajectory continues its upward climb, the team remains laser-focused on reimagining and elevating digital social entertainment in the subcontinent.
Aqib Muhammed, the visionary CEO of WAFA, reflected on the company's success during the "Voting Battle" event. Expressing his vision for the platform, he stated, "WAFA's mission is unambiguous: fostering connections and empowerment through impeccable social engagements."
With such ambitious goals and a track record of delivering outstanding experiences, the future of online entertainment in India seems promising, with WAFA at the helm.