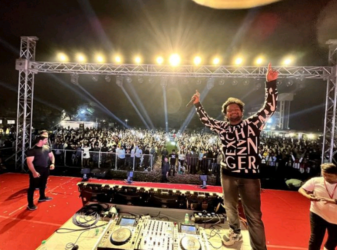 No more holding on to the seat; it is time to groove along the dance wave! The wait is over. Experimental, brave, and unorthodox, the super-talented Asian DJ brings his annual surprise to the listeners. With an album to ring in the New Year with a bang and dance till the last drop, Prithvi once again delivers above and beyond the expectations of his fans. 'The Big Bangers' is now available for download.
Comprising the top 20 most loved Bollywood songs, Prithvi has carefully curated a list of mashups resonating with the New Year theme; he is considerate of incorporating the popular view of his audience, for which he is active on his social media and regularly drops a treat for listeners on YouTube. Prior to 'The Big Bangers', he released the remix of the anthem of the year 'Besharam Rang', which has received an overwhelming response. He is peculiar with his choices and highly selective. DJ Prithvi Sai's feverish passion for recreating all-time classics, trendy and new-age music is unparalleled to his contemporaries in the industry.
The young DJ stands out in his approach to connecting with the newer music generation; he can connect on a much deeper level knowing the preferences of Gen Z and millennials. A mix of fusion trying out a mix of new genres to produce something like never before; he is constantly trying out new styles of remixes, hit or miss, instant feedback is at the core of his work. Currently enjoying the top position at all DJ charts in India, his 'Kantara Mix' video went viral all over the internet, making him the sensation. Many music legends have labeled him the next big thing for the Indian Music Industry. He also recreated the viral song 'Mera Dil Ye Pukare Aaja.'
Prithvi Sai, the multi genre maestro, has now become Indian number one choice among students and party poopers; from a private event to crazy beach parties and concerts, he takes the audience to a once in a lifetime journey where nothing but fun envelopes all over the people, a labyrinth of euphoria, an electrifying environment is a whole next level vibe. DJ Prithvi Sai is here to stay and revolutionize traditional MUSIC.
'I have an obsession, an unequivocal love for DJing which is hard to put into definition through words, it is a feeling of an adrenaline rush that I get, and I discovered this aptitude at a very young age, which gave me the confidence to pursue it as a career when I was 10 years old. Nobody is unaware of my love for creating captivating melodies, funky tunes, and musical experimentation. Believe it or not, I have merged all of these things to create something incredibly captivating and original. EDM is my dopamine; I hope the audience likes 'The Big Bangers' so far. I am truly grateful for the response; my listeners are the best! This year is going to be huge; stay tuned and till then, enjoy my releases. — The Best Indian DJ – Prithvi Sai.
Listen to his remixes at Stream Prithvi Sai music | Listen to songs, albums, and playlists for free on SoundCloud. Follow Prithvi Sai on his Instagram for candid interaction and daily insights into his work. Subscribe to his YouTube channel and click the bell icon to stay updated on his latest videos. He is currently available for private events, parties, and college and university concerts.