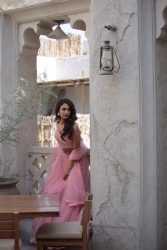 We have always adored actress Erica Fernandes for her charming stance, be it on screen or even on social media. And even now as the actress enjoys her time in Dubai she is making sure to make the most of the stunning location by doing some amazing photoshoots. In fact, this recent photo session Erica had at Dubai creek looks straight out of a fairytale. Yes, donning a pink lehenga, and posing in this gorgeous backdrop makes Erica truly look grace personified. And you know what is even greater? Even after being in another country, more so, a foreign land, Erica chose to sport an Indian attire thus celebrating her roots.
Let us tell you, on the fashion front, the actress is always someone to look up to. And this particular is something we are totally adoring for the way it has been curated. Talking about her experience, Erica says, "It was truly a delight to do this. I love dressing up in Indian attires, hence I made sure to carry some outfits when travelling to Dubai. What I loved the most was that the pictures got my vibe just right. This look is curated with sheer elegance and that was something I loved. As far as the location is concerned it was so stunning that I am still mesmerized to have witnessed it live."
On the work front, Erica is amped up for her short film to release on Amazon Mini TV soon. Till then let's enjoy many more of her stunning avatars.