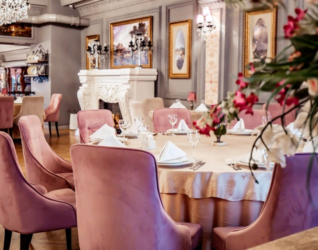 Find Banquet is a budding platform in the world of wedding planning not just for the users that plan their events with the services offered by a variety of vendors but also to support the vendors to stimulate their business. If you are a wedding vendor and offering any of the services like decoration, banquet halls, makeup artists, flowers, catering, etc. you should register your business to this amazing business platform, which is helping people flourish their businesses. They have been in this business for quite a while and they are always delivering what they promise to the community. Find Banquet hall believes that every business is unique and should get equal opportunity to cultivate their wedding and event planning business by reaching out to the maximum audience.
They work like a helping hand to people to enhance the emotions, beauty, lavishness, and memories of their special day. They are equipped with a skilled and knowledgeable team of experts from all fields that are passionate to promote the vendors listed on their platform and help them get the best of all, thereby allowing them to increase the oomph factor of the auspicious events of the users. There are innumerable wedding vendors listed on the platform for decoration, wedding planning, banquet halls, catering, makeup artists, etc. They are not just providing the details about the enlisted venues and vendors but rather helping our customers to book those quality services at a pocket-friendly. The event planning group is proud for providing a user-friendly medium to connect the listed vendors and registered users with each other to have direct communication.
Vendors can share their ideas with interested customers from their pre-hosted weddings, seminars, parties, or sangeet ceremonies organized so the upcoming potential customers can get inspiration from your portfolio and plan their upcoming occasions. Users will be able to plan their weddings according to the rituals or traditions pursued in their culture.
Book your destination wedding venue
Find Banquet platform is the one that can allow you to find a perfect destination for your wedding. With one of the resorts, banquet halls, or hotels registered over the platform, you can find your dream wedding destination in any city you are planning to. Here you will get vendors that will allow the prospect to get in touch with someone that can compatibly help you to plan and execute each ceremony and tradition. Doesn't matter if you are looking for a makeup artist to make you a dolled-up bride, or a world-class caterer to serve appetizing and finger-licking dishes to your guests so that the effect on your guests remains long-lasting.
Why bond with Find Banquet?
Get new customers
Find Banquet is an actively-emerging platform that supports you to grab new customers that match your services and what kind of service you are going to offer. You can accept or reject the request and can contact the user directly without any charges imposed.
Portfolio Management
With this platform, you, being the vendor can share your prices, business information, and contact details. With the basic or free account, you can upload images representing your business and offerings but up to a limit. However, the premium or paid plans can offer you a lot of exciting benefits.
Reviews and ratings
Your customers will leave reviews about you after taking your services and being a vendor you can respond to them. Reviews offer a sense of relief to your customers and give them more confidence to get your services.
Vendor in your City
Find Banquet is serving users all over India along with the metro cities like Delhi, Mumbai, Bangalore, Kolkata, Hyderabad, Pune, and Chennai with a simple yet significant objective to help vendors as well as customers form healthy relationships and get what they are looking for.
People looking for event planning services can register here and then check out from the listed vendors and then if find a suitable one, can book events with them. If you, however, get their subscription plans, you will be a top service provider. You will explore a lot of benefits once becoming a paid member.
They don't follow any "pay and earn" service model therefore, you can start receiving bookings, as soon as you register yourself. There is no need to pay the platform unless you want to unravel additional benefits. Their vision is to deliver proficiency, excellence, and a satisfactory experience to the users who trust to get the best services. If you register yourself here, you'll not have to spend and create a separate dedicated website for your business.
Find Banquet provides the vendors with the authority to create and endorse your brand in the online world. We bequeath palpably in all the marketing platforms so you reach the largest user base from the comfort of your universe.
About Find Banquet
Find Banquet is one of the leading platforms established back 5 years ago, even before the pandemic starts. It has been a great learning and growing experience for them and from that day, they haven't just turned back to initials. The number of users and vendors is both growing at a great pace which is helping them create a renowned name among the audience all over India.
Contact:
Find Banquet
info@findbanquet.com
8448876877