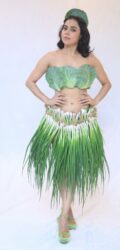 Who would have thought green vegetables could be so alluring. Garam Masala Actress Nikita Rawal is promoting vegetarianism. Nikita, who is seen wearing an outfit made entirely of lettuce leaves and other vegetables.
Nikita Rawal is playing a huge part in many life toying with the idea of going plant-based.
While veganism has become a major health and wellness mainstay over the past few years, the influential power of celebrities ditching meat and dairy has greatly inspired people to adopt a plant-based lifestyle – and this year alone, thousands of Brits have switched over!
Speaking of the health benefits, Nikita Rawal said, "vegan diet following it may help you to lose weight, make your heart and sugar levels better, may lower the chances of cancer, arthritis and Alzheimer's disease among others. This diet is quite popular among celebs across the world as there are several health benefits and of course, of course for ethical and environmental reasons. Stop animal cruelty adop vegetarian diet."