Wedding rings are more than just an accessory; they are a symbol of love for everyone. From proposal to engagement and wedding, each event has different rings to symbolize love, dedication, and passion. You can consider them a souvenir that reminds you of the lovely times shared with your partner or a pretty adornment that wraps around your finger.
So, men, take notes! If you are coming closer to your wedding date and are on the hunt for a bewitching wedding ring for women, here we will suggest you some of the best wedding rings for women that you can go through to find the perfect gift for your partner! Read on to know more.
The Minimal 14Kt Yellow Gold Heart-Shaped Finger Ring
You can profess your love in the most exquisite way by gifting this heart-shaped wedding ring for women to your partner. Being a reminder of true feelings and passion shared between you both, the ring is perfect for every occasion and will go with every outfit. Plus, the ring is not even heavy on the pocket!
The Blingy 14kt Yellow Gold Diamond Finger Ring
If you want to go for something blingy and heavily studded, the 14Kt yellow gold diamond wedding ring for women is a perfect choice! The three-layered finger ring is embellished with 35 round diamonds. This one can easily be an ideal statement piece of jewelry to complete any outfit. You can pair it with a diamond necklace, a saree, bangles, and a ring to complete your look. Even if you are going for the gown, wear just a light necklace or chain pendant to make a blingy entrance.
Pearly Pinks- 14Kt Yellow Golden Hour Finger Ring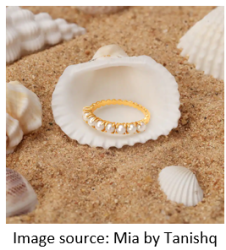 Check out this idea: get a wedding ring for women as per their birthday season. So, if your partner's birthday is in summer, this pearly 14Kt yellow golden hour finger ring is the most suitable jewelry piece to gift! Resembling a tiara, this wedding ring for women is a perfect way to let them know how they are the queen of your life and how much you cherish them every day. Also, the ring is perfect for casual and formal settings. Pair it with your office power suit, chiffon saree, or jumpsuit, and you are good to go!
The 14Kt Diamond Mangalsutra Ring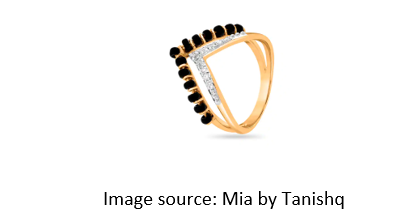 This mangalsutra wedding ring for women is perfect for ladies who prefer to avoid wearing mangalsutra or commute daily; or simply someone who wants to avoid the heaviness that comes with wearing the chain for longer hours. The mangalsutra wedding ring is the perfect solution for your partner. This gift will show that you care for them and are not afraid to show it as well. The wedding ring is crafted in a 14kt yellow gold body and is encrusted with black beads of mangalsutra and diamonds. So, what are you waiting for? Head over to Mia by Tanishq's website today and book this elegant wedding ring for women today!
Conclusion
There are thousands of designs in the market when it comes to wedding rings, and a maximum of them have the same design and such. However, the wedding ring for women collection from Mia by Tanishq is a breath of fresh air. The subtle designs, affordable price range, and expert craftsmanship are key highlights of the wedding ring collection. You can visit their website for the vast range of wedding rings for women and gift for your partner. So, what are you waiting for? Check out the elegant wedding rings today!