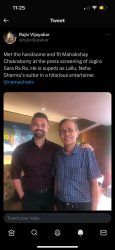 As the sun rose today, Jogira Sara Ra was released in theatres all over India. Being described as the best comedy film of recent times, the actors of this family drama are receiving quite a huge response! Especially Mimoh Chakraborty , who skillfully portrays the role of Lallu, who is to be married to Neha Sharma's character, has been making news for his outstanding work and making the most of a simple role.
Shehnaaz Gill tweeted about the fabulous actor saying,"Watched #JogiraSara Rara n I must tell you it's a laughter riot @Nawazuddin_S proves his versatility again with his comic timings @Officialneha you were just apt for Dimple #mimohchakraborty you were faaabbbb #sanjaymishra sir actor par excellence"
A myriad of other celebrities including Rajiv Vijayakar were quick to watch and comment on the perfect representation of Mimoh Chakraborty in this film and how he made the audience laugh with his witty, comic timing.
Taking a moment to be share his feelings, Mimoh says , "I am truly overwhelmed with such a positive response. It's only been a few hours and I've already received much love and appreciation. It's every actor's dream to see this day, when all their efforts come to fruition. "