Love Triangle Fever: Films and Series to Check Out for the Perfect Tangle of Hearts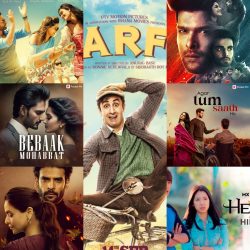 There's something about love triangles that keeps us coming back for more. The intense chemistry, complex relationships, and dramatic decisions make for compelling viewing. These narratives can take us on a journey from simmering passions to heart-wrenching decisions, making us question our own allegiances. If you're a fan of this captivating trope, then look no further! We've curated a list of films, web series and audio series that are worth your emotional investment.
These stories will have you on the edge of your seat, torn between rooting for true love or forbidden desires. From classic tales of timeless love to contemporary stories with a twist, our handpicked selection is sure to satisfy your craving for romantic entanglements. Be prepared for relationships tested, friendships shattered, and choices that could alter destinies forever.
Cocktail
Cocktail is an exhilarating love triangle movie that seamlessly blends romance, friendship, and heartbreak into a captivating story. With the irresistible charm of Said Ali Khan, the mesmerizing beauty of Deepika Padukone, and the endearing innocence of Diana Penty, the film explores the complexities of relationships and the consequences of choices made in the name of love. As the protagonist finds himself torn between two best friends, each embodying contrasting personalities, the audience is taken on a rollercoaster of emotions. Deepika Padukone delivers a remarkable performance, evoking both joy and sorrow, as her character's casual relationship spirals into heartbreak. With its modern-day setting and relatable characters, Cocktail is a perfect blend of passion, conflict, and longing that will leave viewers captivated until the very last scene. Watch Cocktail on Prime Video.
Bebaak Mohabbat
In a shocking twist during her cousin's wedding, Ananya's life takes a dark turn when a sex tape implicates her with the groom, Arambh Batra, leading to a forced marriage. With no prior knowledge of Arambh, Ananya must navigate the complexities of an unfamiliar relationship, battling societal judgment and her own personal turmoil. As she strives to survive and find her way amidst this unexpected union, Ananya's journey becomes a powerful exploration of resilience, self-discovery, and the pursuit of freedom in the face of adversity. This gripping story delves into themes of consent, societal pressures, and the indomitable spirit that can arise when confronted with unimaginable circumstances. To listen to Ananya's tale, tune into Bebaak Mohabbat on Pocket FM.
Aadha Ishq
Aadha Ishq on Voot is a spellbinding web series that explores the complexities of love and its enduring power. The intense and passionate love between Sahir and Roma, portrayed flawlessly by Gaurav Arora and Aamna Shariff, undergoes a tumultuous journey, only to resurface years later in a completely unexpected way. As fate would have it, Roma's daughter, Rene, played by the brilliant Pratibha Ranta, falls head over heels for the same man, Sahir, igniting a catastrophic web of complications that threatens to shatter numerous relationships. With its gripping storyline and exceptional performances, Aadha Ishq breaks all conventional barriers of romance, delving into uncharted territories of desire, sacrifice, and forbidden love. This captivating web series promises to keep viewers on the edge of their seats, witnessing a love triangle like never before.
Heirs
Heirs is a classic Korean Drama that boasts of a perfect love triangle that had viewers hooked and rooting for their favorite characters. The series, available to stream on MX Player, revolves around the lives of wealthy high school kids, trained to take over their family businesses. The protagonist, Kim Tan, is sent to the US by his half-brother, who wants to take over the family business and keep Tan away. In the US, Tan falls in love with Eun Sang, but he is already engaged to another girl, adding to the drama. The series explores the complexities of love and duty, as Tan struggles to make the right choice. Heirs offers a perfect blend of romance, drama, and family values, making it a must-watch series for fans of Kdramas and love triangles.
Barfi
Barfi is an enchanting love triangle movie that will take you on an emotional rollercoaster ride. Set in the 1970s, the film portrays the heart-warming love story of Murphy Johnson, aka Barfi, a boy who is hearing and speech impaired, played by Ranbir Kapoor. The film follows Barfi's relationship with two women, Shruti, played by Ileana D'Cruz, and Jhilmil, an autistic girl played by Priyanka Chopra. The story takes you through their journey of love, heartbreak, and forgiveness as they navigate the complexities of their relationships with each other. Ranbir Kapoor's performance is nothing short of brilliant, while Priyanka Chopra's portrayal of Jhilmil is awe-inspiring. Barfi is not just a love story; it's a testament to the resilience of human emotions, making it a highly acclaimed and must-watch movie available to stream on Netflix
Agar Tum Saath Ho
A saga of heartbreak and redemption, Naina finds solace and a glimmer of hope in Dhruv, the brother of her cheating boyfriend, Ashwin. As she rebuilds her shattered life, Dhruv's presence promises a fresh start and the potential for happiness. Yet, uncertainty looms as Naina wonders if this newfound hope will bring the much-needed joy she seeks or if it will instead usher in a new wave of challenges and complications. With emotions running high, the story unfolds, keeping audiences on the edge of their seats, eager to discover the fate of Naina and the impact of Dhruv's arrival in her life. To know further about Naina's future tune into 'Agar Tum Saath Ho' only on Pocket FM.
Bebaakee
Bebaakee is a captivating web series that delves deep into the realms of love, brotherhood, and the destructive power of hatred. With a stellar cast featuring Kushal Tandon, Shiv Jyoti Rajput, and Karan Jotwani, the series presents a fresh combination of talent. The love triangle between Kainaat, Sufiyaan, and Imtiaz forms the crux of the storyline, posing a grave threat to the very essence of love and familial unity. Bebaakee explores the fragility of the strongest bonds and showcases how trust can be pushed to the brink of destruction. This series will keep you on the edge of your seat as it unravels the complexities of relationships, testing the characters' loyalty, and challenging the foundations of love and kinship. Bebaakee streaming on ALTBalaji and Zee 5 is a perfect blend of drama, passion, and intense emotions that is bound to leave you wanting more.