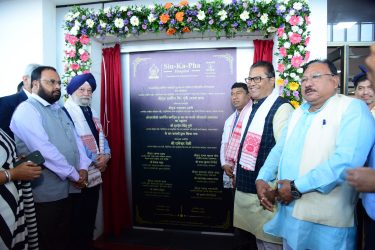 Bangalore| November 04, 2023: Shri Hardeep Singh Puri, Hon'ble Union Minister of Petroleum and Natural Gas and Minister of Housing and Urban Affairs said, "Driven by PM Modi's commitment to the North East, government and public enterprises like ONGC are committed to improving lives in the North East. Prioritising healthcare, ONGC's Siu-Ka-Pha Hospital, with its state of the art medical infrastructure, will bring in substantive enhancement in healthcare capacity of not only Upper Assam but in entire North east India." He was speaking to at a public function in Sivasagar after inaugurating the ONGC-supported multi-speciality hospital there.
Shri Rameswar Teli, Hon'ble Union Minister of State for Petroleum and Natural Gas, Labour and Employment, was also there in the inauguration; he said " Siu-Ka-Pha Hospital, built as one of ONGC's biggest CSRs, is highly advanced with latest healthcare services that will benefit the people of this region in many more reasons".
The Multi Speciality Hospital is built with a total investment of Rs 483.19 crore, showcasing ONGC's commitment to improve the lives of the communities it operates in. The facility is expected to provide healthcare services to over one lakh patients annually.
The hospital will be managed and operated by Dr. Babasaheb Ambedkar Vaidyakiya Pratisthan (BAVP).
The state-of-the-art hospital spanning over 35 acres, has 300 beds, and a team of 70 specialized doctors, offering a comprehensive range of medical services, including Orthopaedics, Trauma, Paediatric & NICU, Obstetrics, Gynaecology, ENT, Skull base Surgery, Physiotherapy, Rehabilitation, and advanced diagnostics.It has modular operating theaters, a critical care unit, and telemedicine, connecting patients with specialist healthcare providers nationwide.
The ONGC Siu-Ka-Pha Multi Specialty Hospital is a ground-breaking addition to the healthcare landscape of Assam and the surrounding regions. For medical treatments, residents would need not to go to Dibrugarh.
In addition to its primary purpose of providing healthcare, the ONGC Siu-Ka-Pha Multi Specialty Hospital will play a pivotal role in stimulating job creation and
fostering economic opportunities within the region. It stands as an embodiment of progress, growth, and well-being for the people of Sivasagar.
ONGC Siu-Ka-Pha Multi Specialty Hospital is dedicated to delivering advanced healthcare services to the underserved socio-economic strata of Assam.
The event was also attended by the Chairman and CEO, ONGC, Arun Kumar Singh, as well as other senior officials from the Government of Assam and ONGC, Dr Satish Kulkarni, Chairman BAVP Trust, Dr Anant Pandhare, Chairman Siu-Ka-Pha Hospital, Dr Gautam Das, CEO, Siu-Ka-Pha Hospital were also present at the occasion.
ONGC Siu-Ka-Pha Haspatal
Aanibo Asomor Swasthyo Sewaloi Amrit Kaal.