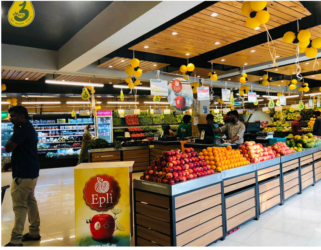 Kochi, India – A new retail concept is shaking up the fresh produce industry, and it is quickly gaining attention. Greens Angaadi, an exclusive fruit and vegetable store chain, has established itself as the best in the business for its commitment to fresh produce and excellent customer service.
Founded by Kamarudheen C. H., Basheer Ahamed A., Abdul Salam K. A., Safuvan A. K., and Nipun S. P., Greens Angaadi has been in operation for three years and has already become a household name in the city. The company officially launched its first store in September 2019 at LFC Road Kaloor, followed by the second one in February 2020 at Kadavanthra. When the pandemic hit around March, Greens Angaadi launched its app while continuing business through Swiggy and Zomato.
Greens Angaadi offers a wide variety of exotic fruits and vegetables sourced from around the world, which are delivered daily to ensure maximum freshness. The team behind Greens Angaadi believes that everyone should have access to fresh, healthy produce, with the goal of being "more than just a store, but a community resource for healthy living." And we would like to extend our sincerest gratitude to Aeden Fruits International Pvt. Ltd. for their unwavering support as the import partner of Greens Angaadi.
Their dedication to providing high-quality, fresh fruits and vegetables has been instrumental in elevating our store to be the exclusive destination for produce. We are honoured to have them as part of our team.
In addition to a diverse selection of fruits and vegetables, Greens Angaadi also features a range of baked goods and fresh juices in various flavors.
The store has received accolades from agribusiness experts and customers for its innovative approach to retailing fresh produce. Currently, Greens Angaadi has three locations in the city, with plans to expand to more locations in the future, making it more convenient for customers to access their fresh produce.
Greens Angaadi is celebrating its third anniversary while continuing to carve out a niche in Kochi's fresh produce industry.
Greens Angaadi is dedicated to providing fresh, healthy produce and excellent customer service to its community. Its innovative approach to retailing fresh produce has earned it recognition from experts and customers alike. As Greens Angaadi's reputation in Kochi grows, the company has aspirations to broaden its horizons.
https://www.instagram.com/greensangaadi/?igshid=NDk5N2NlZjQ%3D