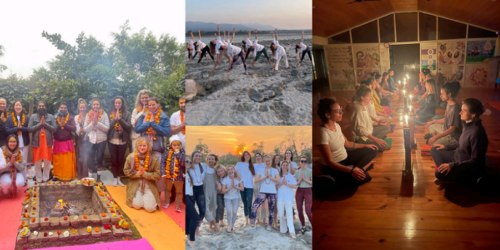 Gyan Yog Breath is a yoga education organization located in Rishikesh, India. It was founded in 2008 by Bipin Kumar to share the traditional yogic science with yoga aspirants from all around the world. Since 2009 Gyan Yog Breath is a registered Non-Profit Trust under the Government of India.
Since being founded, the non-profit organization runs monthly, residential yoga teacher training programs at the Gyan Yog Breath Ashram in Rishikesh.
Yoga is a complete ancient science that was first mentioned more than 5000 years ago. The yogic techniques like asana, meditation and pranayama have a very positive and scientifically proven effect on the entire endocrine system of the human body, resulting in better health, stability and mental peace. In the Western countries, yoga is only popular for a superficial, physical practice, but at Gyan Yog Breath, all levels of yoga are taught, including the spiritual, mental and energetic benefits.
The programs at Gyan Yog Breath are called 200 hour yoga teacher training, 300 Hour yoga teacher training, 500 hour yoga teacher training and Ayurveda counseling teacher training. The yoga teacher training in India teach about the ancient yogic tools and practices including asana, pranayama, meditation, yogic philosophy and relevant wisdom from the Vedas.
The primary aim of the organization is to create a global community of yoga practitioners who understand the powerful and original techniques of yoga – resulting in emotional, physical, mental and spiritual well-being.
Gyan Yog Breath has trained more than 2500 students from more than 84 countries until today. It has various sub-branches and studios in Europe as well as an external studio in St. Ingbert Germany.
The Gyan Yog Breath Ashram in Rishikesh overlooks the Ganga River and beginning of Himalayan mountains. It's a primary attraction spot for many spiritual seekers who wish to learn authentic yoga in a supportive and uplifting ashram environment.
Rishikesh has increased its popularity tremendously over the last 10 years and is now selected to become the next G20 meeting location, thus resulting in even more rising interest of international travelers.