They all cut grass, but it is important to consider your comfort and convenience. Cost, durability, maintenance, ease of repair and safety aspects also need to be considered when buying a lawn mower. With a plethora of brands claiming to be the best, it can be a bit tough to separate the wheat from the chaff. Here are some tips and suggestions that will help you choose the right lawn mower.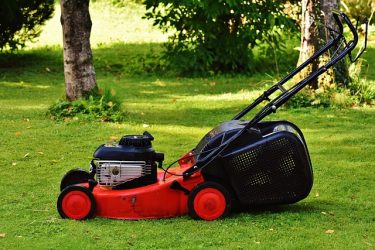 Size of the lawn – If you have just a small area to cover, a walk-behind lawn mower will be most appropriate. However, if you have a large property to manage, you will need a riding mower. You do not need any fancy equipment or advanced mathematics to know which lawn mower will be appropriate for your property. Just consider how much time you are willing to allocate for the task. See how much area you can cover by walking around the lawn. It will tell you if you need a walk-behind or riding mower.
Terrain matters – There are specialized lawn mowers that are designed to negotiate both plain land and uneven terrain. The standard ones will probably have capabilities to tackle only plain surfaces. If the property has uneven terrain or tight spots, a lawn mower with low turning radius will be most appropriate. The ones with zero-turn radius will work even better. However, these could be a bit pricier.
Must-have features – For an effortless and smooth experience, it is important that the lawn mower has some essential features. In case of walk mowers, the most basic will be a self-propelled mower. If you have mostly level ground, a front-wheel drive mower will be suitable. For sidehill and uphill tasks, a rear-wheel drive mower will work best. There are all-wheel drive mowers also available, which can handle a wide variety of terrain.
Must-have functions – Depending on your needs and height of grass, you can consider single-function or multi-function mowers. For example, a two-function mower will mulch as well as bag the cut grass. A three-function mower will carry out side discharges along with bags and mulches.
Comfort and convenience – If you have to spend a long time on the lawn, look for a mower with a comfortable seat. The one with lumbar support and armrests will be most appropriate. You also need to look out for available leg room.
Choosing the powertrain – You need to choose a lawn mower that has smooth operations and minimal vibrations. One option is hydrostatic transmission, although it can be costlier. Most of the standard lawn mowers utilize a belt and pulley setup as the transmission. There can be variations, but these are usually easier to repair and maintain.
Engine options can be in the range of 140cc to 190cc. Choosing a larger capacity engine will reduce the risk of a stall while working through tall grass. The choice will be an engine that is durable, makes the least noise and is fuel efficient. Electric lawn mowers are also available. These are suitable for relatively smaller lawn sizes.
When it comes to choosing the right lawn mower, it is important to consider one's specific needs and requirements. With the tips and suggestions provided above, you should be able to choose the most appropriate lawn mower for your property.