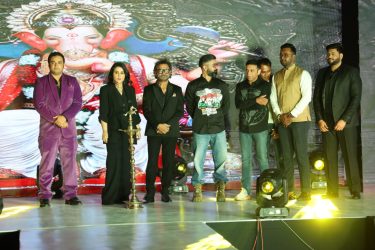 It is another year of grand success for Eventz Factory & Kunal Thakkar as the award show IIIA – INDIA INTERNATIONAL INFLUENCER AWARDS was indeed a grand success. The award ceremony took place in the presence of chief guest Amruta Fadnavis & Guest of Honour, Anees Bazmee, Legendary Grandmaster Shifuji Shaurya Bharadwaj Sir & many other celebrities from Bollywood, Television, OTT, influencers, professionals & entrepreneurs. The event was held at Hotel Orchid and was co-powered by Jio News with Radio Partner 92.7 Big FM , Fragrance Partner ASG Perfumes, Trophy Partner Whitix, Style Partner Oceana Clutches, Jewellery Partner Pylon, Gifting Partner Sachin Enterprises & Glitters Sparkles, magazine partner Downtown Mirror & Fitvilla, Supporting Partner Bollywood Town Outdoor Partner Bright, entertainment partner Starplug.
Some of the major names from the entertainment fraternity who attended the award show and won are Amruta Fadnavis, Shifuji Anees Bazmee, Farhad Samji Daniel Weber, Gaurav Chopra, Madhurima Tuli, Sreejita De, Yuvika Chaudhary, Karanvir Sharma, Shakti Arora, Rakhi Sawant, Ayesha Singh, Amol Parashar, Payal Ghosh, Avinash Sachdev, Gagan Dev Riar & Sana Amin Shaikh (scam 2003), Maanya Singh, Ipsita Bhattacharjee, Ayesha Singh, Amol Parashar, Payal Ghosh, Tanuj Virwani, Nikhil Bhambri, Kaveri Priyam, Sahil Salathia, Sachin Shrof, Fiona Allison (France), Faiz Baloch, Adnan Shaikh, Nikita Sharma, Khushboo Khan, Afsha Khan, Aliya Hamidi, Kate Sharma, Kanika Mann, Sana Sultan Khan, Riva Arora, Varun Buddhadev, Shreya Kalra, Sharib & Toshi, Srishti Munka, Ramandeep Kaur, Shadan Farooqui, Drashti Bhanushali, Ankita Dave, Kaishaa Bhutani, Shweta Rathore, Vishal Pandey & many others. Regarding the success of the event, Kunal Thakkar shares and we quote,
"Within a Short span of time IIIA – India International Influencer Awards has been setting the standard high when it comes to recognising talent and hard work and honouring them the right way. Over the years, we have earned credibility with support of our partners, and the celebrity fraternity and influencers,also the goal is to grow and make it bigger and grand every year. We had a great turnout this year and I am grateful to everyone who took time out of their respective busy schedules to attend our event. Next year, it is going to be even more special. Looking forward."
Well, congratulations to Kunal Thakkar, Eventz Factory for pulling off a successful award show and also congratulations to all the winners. Stay tuned for more updates.