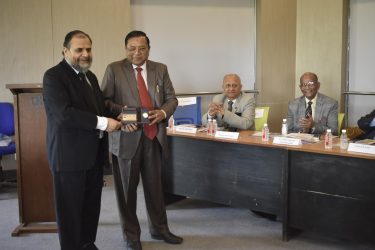 Greater Noida, 1st April 2023:Exploring the potential of implementing best practices and emerging robust technologies in law education, the Lawyers' Conference on Teaching and Experiential Learning in law by IILM University brought together distinguished legal professionals, judges, scholars and passionate law students at its Sprawling Greater Noida Campus.
The prominent dignitaries extensively brainstormed and shared their experiences and opinions in designing the latest teaching methodologies and bridging the existing gap in education delivery and expected learning outcomes.
The lawyer's conference was organised in line with the objectives of the National Education Policy (NEP) 2020 and centred around the themes: ( 1) Evolution and Evaluation of the Present Teaching Methods in Law; ( 2) Need for Change and Adoption of New Approaches to Law Teaching. ( 3) Urgencies to Evolve New Patterns of Curriculum development; (4) Courses and Methods of Experiential Learning.
The National Education Policy (NEP) 2020 underlines the importance of making legal education globally competitive by embracing best practices and new technologies for wider accessibility and timely delivery of justice. It also emphasises that legal education should be rooted in constitutional values of justice, democracy, rule of law, and human rights. To accomplish this, significant reforms are required to improve the quality, equity, and integrity of the current learning system.
Detailing the objectives of the conference, Prof. M. Afzal Wani (Convener) Pro Vice Chancellor and Dean School of Law said, "The Lawyers' Conference on Teaching and Experiential Learning in Law is a concerted effort to contribute to the NEP's vision of promoting quality education with global competitiveness for reducing inequality and enhancing the Indian students' capacity for placements across the globe. This conference delivered a unique opportunity for practising legal professionals to contribute towards quality legal education and develop overall a better justice system using all emerging technologies. "
The conference commenced with inaugural speeches by Hon'ble Mr. Justice R K Gauba, Former Judge, High Court of Delhi and Hon'ble Mr. Justice Zaki Ullah Khan, Former Judge Allahabad High Court who explained the urgency of revamping the systems as per new needs. Forty lawyers expressed their opinions in the conference for producing well-honed advocates for the areas of constitutional law, trade law, consumer protection, tax law, criminal law, IPR, arbitration and mediation, cyber law and so on. Eminent advocates like Adish C Aggarawala and Mr. Krishan Mahajan were also a part of the select panel of advocates.
''When I passed out from judicial college, I was able to acquire only theoretical knowledge but did not know how to practically use it. Foreign firms bring new ways in their dealings and their presentations are to the point. Indian firms, on the other hand, still grapple with time management and discipline. About half of the judicial manpower of 80 officers was under my team and a breach of law occurs because we have not taught them about the law,'' said Hon'ble Mr. Justice R K Gauba, Former Judge, High Court of Delhi.
Echoing his opinion and underlining the importance of leadership in the law domain, Advocate (Prof.) Krishan Mahajan, Supreme Court of India, NLU Odisha & RGNUL, Patiala, said, "The failure of thought leadership in India is the crisis in leadership and it is necessary to sort this out. About 50 percent of India's population is employed in agriculture but we don't teach agriculture and also don't have a law in this area. It is a great domain where the law is needed.''
The Lawyers' Conference garnered encouraging participation from legal practitioners and experts from diverse regions of the country and served as a testament to IILM's unprecedented commitment to upholding high standards of legal education and nurturing legal talent across the nation.