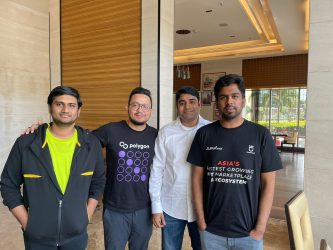 New Delhi, April 3, 2023: Jump.trade, Asia's largest NFT marketplace announced today that it has achieved 1st rank in the NFT marketplace category on Polygon Network as per the data available on DappRadar, the most trusted source for exploring Dapp & NFT data across ~50 blockchains. Jump.trade now ranks ahead of NFT marketplaces like OpenSea, Decentraland, and OKX NFT marketplace.
A leading force in gaming NFTs, Jump.trade, last year, dropped the world's first P2E (play-to-earn) cricket game NFT collection, 55,000 NFTs from Meta Cricket League which were sold in just 9 minutes. Jump.trade has forged partnerships with leading global brands like Twitter, and Flipkart to accelerate the mass adoption of NFTs and explore multiple use cases for NFTs. Jump.trade has successfully executed tech integrations in the Web3/NFT realm with global brands like Pepsi and Cadbury among others. Jump.trade endeavours to make NFTs more accessible and available across India and the globe, and also develop a holistic and integrated metaverse ecosystem for brands and individuals to collaborate.
Commenting on the development, Kameshwaran Elangovan, Co-founder and COO of Jump.trade said "We are delighted to see Jump.trade become the top NFT marketplace, which is an astounding statement of our team's hard work and the enthusiasm of our community who keep our marketplace always buzzing. We aspire to become a global force in gaming NFTs through constant innovation based on the feedback received from our valuable community."
The NFT market will be valued at $231 billion by 2030 (VMR report). The growth of the NFT market is highly likely to be driven by the gaming and sports industry as they offer a huge fan base for NFT-related products to grow exponentially. Brands venturing into experiences and new branding avenues is also expected to contribute to NFT growth. India, being an emerging tech superpower of the world, has a robust technical infrastructure that will act as a strong foundation for the NFT industry to penetrate remotest areas of the country. Healthy regulatory framework will enable faster adoption of NFTs and digital collectibles, and ownership will play a crucial role in taking India closer to its dream of $800 billion digital economy by 2030.
Link to see the rank: https://dappradar.com/nft/marketplaces/protocol/polygon