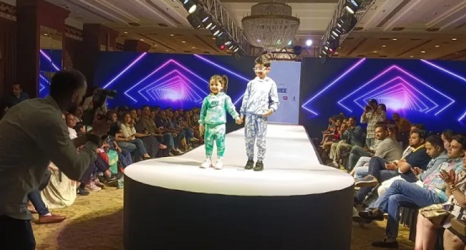 Anticipation for the 78th edition of JFW reaches a crescendo in Delhi! In association with One Friday, showcasing Lee Cooper, accessory partner ZOOP by Titan, and National Budding Brand – Mulyo, supported by prime sponsor Kidsup and showcasing Rookie USA, a symphony of style is set to grace the runway.
Delhi, 5th November 2023 – The heart of Delhi throbs with excitement as Junior's Fashion Week, hailed by Time Magazine as Asia's No.1 edutainment platform, prepares for an opulent showcase, at the lavish Sheraton New Delhi Hotel, Saket. Celebrated for its spotlight on emerging talent and global fashion.
JFW sets the stage for the revelation of the enchanting Autumn/Winter 2023 collections. One Friday, an esteemed Association partner, and Mulyo, a homegrown conscious kidswear brand, will unveil their latest creations along with Lee Cooper. The runway will sparkle with the radiance of ZOOP by Titan's accessories, the prestigious "Emporio Armani" collection, and collaborations with renowned names like GUESS, Stella McCartney, and Sonia Rykiel, all complemented by the vibrant showcase from title sponsor KidsUp and Rookie USA's stellar lineup featuring Nike, Jordan, Levi's, and Converse.
One Friday, a kidswear brand born out of a love for the whimsical, narrates stories of surreal adventures and travels. With the design team based in Milan, the fashion capital of the world, they tirelessly craft the latest trends without compromising on comfort and ease for the child.
ZOOP, the cherished kids' watch brand by Titan and the official accessory partner, embodies timeless appeal with its playful and captivating style. Beyond being a mere watch, ZOOP extends an invitation to a world brimming with endless possibilities.
Lee Cooper Kids Club, where creativity, diversity and community is celebrated. From classic jeans with trendy cuts to stylish denim jackets, their collection embodies versatility and ensures that kids can move, play and explore with ease.
MULYO, a homegrown conscious kidswear brand, is a journey into sustainability. Embracing the elegance of Japanese aesthetics, stands for ethical consciousness towards the planet. Every stitch weaves a tale of nostalgia and joy, reminiscent of our own childhoods.
JFW's Delhi Runway not only showcases fashion but forges alliances with global powerhouses. Bespoke services cater to branding, marketing, and business needs, creating a seamless blend of creativity and commerce.
In partnership with Junior's Model Management, the event not only displays fashion but also provides an edutainment platform for young participants. Junior's Fashion Week empowers juniors with confidence through workshops and grooming sessions, fostering their personal growth. These workshops impart invaluable skills and offer juniors a life-enriching experience, rooted in the belief that "Confidence is Beautiful."
Over the years, Junior's Fashion Week has orchestrated numerous successful children's fashion events across multiple Indian cities, organized by Junior's Brands Private Limited. These events have garnered attention from esteemed newspapers and magazines. HNI buyers, influential mothers, prominent media channels, representatives from leading fashion houses, and more gravitate towards these events.
The Delhi edition of Junior's Fashion Week promises not only radiant exposure but also ample opportunities for affiliated brands and young talents.