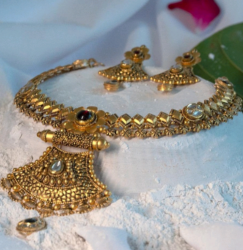 Women today work in every field and smash glass barriers everywhere, thanks to an ever-changing lifestyle. Precious jewellery has traditionally been associated with the traditional and bulky, whilst lightweight jewellery has long been associated with the artificial. Women's jewellery, on the other hand, has been separated into two as they have progressed to a more fast-paced and modern lifestyle.   But shouldn't a modern woman's jewellery also reflect her personality? And all of this without sacrificing quality? The answer is Arvindbhai Jewelers 'Navya' collection.
If you ask a very practical lady what kind of jewellery she wants, she'll usually say something light and simple to wear. When it comes to comfort, lightweight rings and necklaces are the way to go, not to mention a considerably less strain on your budget.
Traditional jewellery has a long history and tradition, but its use has been limited. Bangles and necklaces, for example, were only worn on rare occasions and were stored in lockers. Aside from its lack of wearability, conventional gold jewellery faced storage challenges, cleaning concerns, and, most importantly, a lack of design alternatives.
Costume jewellery, on the other hand, became popular owing to its attractive appearance, ease of use, and, most crucially, its lack of attachment. However, after time, the quality degrades, the stone may fall out, the metal may cause allergies, and it may even appear sticky. And these are some of the challenges that we all encounter from time to time.
Because the fashion business is always changing, it is uncommon for a trend to last for an extended period of time. Lightweight jewellery, on the other hand, is a style that emerged only a few years ago but has been popular ever since. The primary idea behind the notion was to create stylish jewellery that could be worn on a daily basis, which had not previously been the case.
Lightweight jewellery was successful in this, and as a result, it won the race against time, which is something that most new trends lose to in the world of fashion.
Arvindbhai Jewelers new 'Navya' collection is the answer to all of one's woes about costume jewellery and the perfect place if you're looking to buy versatile and elegant pieces that last you a lifetime.
Here are some reasons to fall in love with lightweight jewellery this season!
Easy to wear
While you're always on the go, with clothing tailored to your specific demands, we feel your jewellery should provide the same benefits. You can't deny that jewellery may be pretty hefty and cumbersome in general, making it tough to wear for instances where you don't want to be restricted in your movements. It's time to match up with ease with lightweight gold earrings or bracelet designs!
It's Affordable
The lighter the weight of your gold jewellery, the lower the price! Since the price goes down you can fit in more pieces in the same budget, that too without compromising on the quality!
Also acts as an investment
Because gold, silver, platinum, and diamonds are considered investments due to their resale value, purchasing lightweight jewellery made of precious metals and stones is a wise decision.
Perfect for all occasions and all outfits!
Why wait for weddings and festivals to style your gold jewellery when you can wear it just about every day and with everything from ripped jeans to an off-shoulder top!
You can look in trend all year round
Ever wondered how we come up with such a vast range of designs? The 'Navya' collection worldwide fashion trends as inspiration and transform them into your favourite pieces. When it comes to your outfit, we feel that your fine jewellery should be updated as well. And, with changing tastes, you should be able to find solutions that are similar to fake jewellery, but far more attractive.