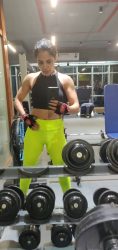 The only way to achieve something in life, is through single-minded devotion to that particular goal, and constant hard work to help you reach it. A workout regime is no different'.For motivation, we can look to some of the most recognisable faces in the TV and film industry, who set major fitness goals. Actress and singer Liza Malik has impressed fashion critics with her sense of style and is also considered to be one of the fittest actresses in the Indian film industry. She follows a daily workout regimen which helps her stay in shape and keeps giving us Fitness goals with her reels and stories.
She shares her ideals behind successfully living a healthy lifestyle, "For the first time in last one year I have not stressed on diet or fitness.But having said that I always maintained a lifestyle which I can follow forever so I always preferred eating simple home cooked balanced meal.I never believed in being skinny I like voluptuous body and SRI mam always has been my ideal in each and every way."
She goes on to highlight what rules she follows to stay active and fit. "I start my day with lukewarm water with honey lemon then inculcate fresh juices. I have replaced rice with Dalia or brown/red rice and normal Aata to nachni/multigrain aata. I have discovered that eating small portions (4 meals a day) and sleeping on time without skipping any meal always works wonders. So i would advise all to eat healthy and never starve or make any drastic diet changes."
Full of life and poised is what defines Liza Malik. The young TV actor made her Bollywood debut with movie Torbaaz, carving a niche for herself in the world of entertainment. Lizaa has featured in TV shows like Comedy Classes, Comedy Circus, Bhaag Bakool Bhaag, and Dancing Queen.