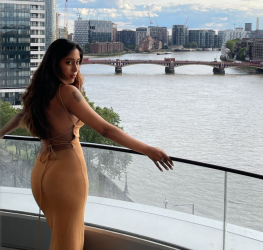 They say that "Willpower is like a muscle, the more frequently you train it, the stronger it gets." Well, seems like the young and charming Apurrva Soni has taken it very seriously indeed. She's gone all out for real when it comes to chasing her ambitions and that's why, right from her hard work towards her craft of acting to her fitness, everything is right there in front of everyone to see and appreciate.
She's stunned many heads for a long time as a supermodel and soon after that, the universe blessed her hard work with a special opportunity in the web show Undekhi. From there onwards, there was simply no looking back for this diva. She's earlier been a supermodel and has been associated with some of the leading places to establish her niche in the entertainment industry.
Fitness has always been of extreme relevance for this diva and seems like right now, she's motivated more than ever before. As an individual, she's always been inspired by the likes of Disha Patani, Jacqueline Fernandez, Katrina Kaif, Bipasha Basu and how they have gone about their fitness. Well, given the way she's going about her fitness game, we certainly feel that these ladies have some serious competition in her. Let's check out some of her most captivating posts that highlight her fitness game with perfection.
https://www.instagram.com/p/CuHW-38IXPi/?igshid=MzRlODBiNWFlZA==
https://www.instagram.com/reel/Cpg-RxujH5v/?igshid=MzRlODBiNWFlZA==
https://www.instagram.com/reel/CnL4sPqMVln/?igshid=MzRlODBiNWFlZA==
https://www.instagram.com/p/CcPcwDHA7U_/?igshid=MzRlODBiNWFlZA==
Regarding her fitness routine and love for workout, she says,
"For me, fitness isn't just about looking good on a certain day or because I want to look fit wearing a certain outfit. It is a way of life. Just like, things like drinking water or eating is reflex and we do it daily, fitness is exactly that for me. No matter how occupied I am, I always take out time to push myself beyond regular limits. Over the years, I have been immensely inspired with the way the likes of Disha Patani, Katrina Kaif, Jacqueline Fernandez and Bipasha Basu have gone about with their fitness. I have loved the fact how these women despite maintaining their regular work flow took time for fitness and set an example for women in particular. I keep a nice balance weight training and cardiovascular exercises and I ensure my diet is right. That's pretty much it."
Well, those washboard abs are genuinely a visual delight, ain't it? Given the way she's going ahead with her fitness routine, don't be surprised if in the near future, Apurrva Soni is the name that becomes synonymous to fitness in the Indian entertainment industry. Inspiring indeed. Stay tuned for more updates.