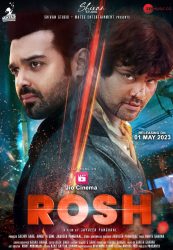 Mimoh Chakraborty's next film Rosh is soon going to premiere on Jio Cinemas App on the 1st of May and the actor is all geared up for it. The handsome actor plays an interesting role of a computer analyst in the movie and it's going to be a treat watching him perform the part.
Talking about it, Mimoh said, " For the movie Rosh, I will be stepping into the shoes of a computer analyst.A drastic incident happens in a film which changes everything in everyone's life. The story of this film is very captivating. I would not like to give out any kind of spoilers but it has a mix of everything and yet unpredictable.
The movie is about a group of friends encountering a strange event one night that changes their lives completely. Jaiveer Panghal is the writer-director of this film.
Along with Rosh and His Telugu film, Mimoh Chakraborty is now amped up to also feature in the upcoming Nawazuddin Siddique starrer film 'Jogira Sara Ra Ra' which releases on the 12th of May in cinemas everywhere.