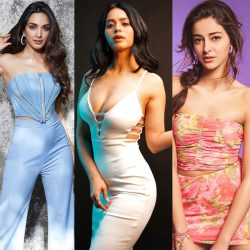 From an array of actresses in the industry, some are exceptionally fashionable and set trends that are followed by everyone. Ananya Pandey, Soundarya Sharma and Kiara Advani are three of the most stylishly dressed queens of B-Town.
Kiara Advani, who wowed us with her subtle yet elegant wedding looks is on the list of Glam Queens. The actress sets a great example of looking like a Goddess in each and every look that she adorns. Her collection is commendable and she has the most innocent and charming personality.
Bollywood actress Soundarya Sharma's dressing sense has also always been a cut above the rest. Every dashing appearance of hers has been a style statement and she beautifully adds the vogue factor to any look with her confident attitude. With a dressed to kill attitude and an avatar that looks ravishing, she steals our breath away with her style.With her fashion sense always on point, actress Soundayra turns heads time and again with her fashion sense and vibrant appearance. She is a fashion mogul who sets trends and the people are eager to follow her style game.
Some celebrities have a signature look, but Ananya Pandey understands what it takes to make an outfit iconic. On the red carpet, she possesses a similar versatility and expresses herself through a range of fashion from around the world. Her skill for stylish entrances made her one of the most-watched stars during festival season.