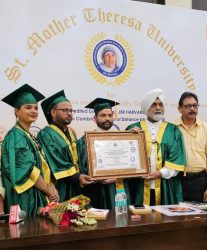 New Delhi, August 20, 2023: Mother Teresa University has conferred the prestigious honor of an honorary doctorate upon distinguished journalist Sunil Kumar Verma, affectionately known as 'Sonu,' in acknowledgment of his outstanding contributions to the field of journalism. The award ceremony, held in New Delhi, marked a significant moment in recognizing Sonu's exceptional work and dedication to the craft.
Hailing from the culturally rich city of Lucknow, Sunil Kumar Verma, known by his endearing moniker 'Sonu,' has left an indelible mark on the landscape of journalism. Serving as the Editor-in-Chief of India24x7 Live TV, he has played an integral role in redefining news reporting standards. Under his visionary leadership, India24x7 Live TV has earned a reputation as a reliable and influential news source, shaping public discourse and highlighting pressing social issues.
The honorary doctorate bestowed upon Sonu by Mother Teresa University serves as a testament to his unmatched contributions to the realm of journalism. Through insightful reporting and a proactive engagement in various social initiatives, Sonu has consistently driven positive change within society.
Dr. Vijaya Saraswati, Vice-Chancellor of Mother Teresa University, extended his heartfelt appreciation to Sonu for his remarkable achievements in journalism and his endeavors to create a positive societal impact. The honorary doctorate not only recognizes Sonu's journalistic excellence but also underscores his dedication to driving meaningful change.
The event witnessed the presence of esteemed dignitaries from various sectors, all united in acknowledging Sonu's significant contributions. From thought-provoking reporting to his role in fostering social progress, Sonu's journey stands as a source of inspiration for aspiring journalists and advocates of change.
*Expressing Gratitude*
"I am deeply honored and humbled to receive this esteemed honorary doctorate from Mother Teresa University. I am grateful for the support and guidance of my family, friends, colleagues, and mentors who have been a part of this incredible journey. Journalism holds the power to shape societies, and I am committed to responsibly harnessing this power to drive positive change.
My heartfelt wishes go out to the students and educators of Mother Teresa University. May you continue to pursue excellence and contribute to the betterment of our society."
*About Sunil Kumar Verma 'Sonu'*
Sunil Kumar Verma 'Sonu' is a renowned journalist and serves as the Editor-in-Chief of India24x7 Live TV. With an impactful career spanning over a decade, he has earned several awards and accolades for his exceptional contributions. Apart from his journalistic achievements, Sonu is actively engaged in advocating for social change, collaborating with diverse organizations to address critical societal issues.
During discussions, it was revealed that Sunil Kumar Verma has made significant contributions to journalism over the past 12 years, occupying esteemed positions in various institutions. His journey, including innovative newspaper distribution at dawn, reflects his unwavering dedication to delivering accurate news to households.
Furthermore, his initiative to establish India24x7 Live TV in 2018 has positioned the channel as a prominent voice in the media landscape. Sonu's commitment to delivering news with integrity and honesty has garnered him respect and recognition across society.
In conclusion, Sunil Kumar Verma 'Sonu' is an embodiment of responsible journalism and dedicated social advocacy. His remarkable contributions to journalism and his unwavering commitment to societal betterment have not only earned him a prestigious honorary doctorate from Mother Teresa University but have also left an enduring impact on the media industry and society at large