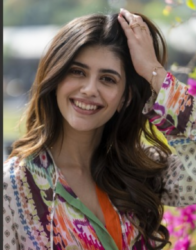 January 17, 2023: This National Start-Up Day, United Nations Development Programme India announced their partnership with Actor and Humanitarian Sanjana Sanghi. Sanghi is partnering with UNDP India to promote youth-led social innovation and entrepreneurship through Youth Co: Lab.
Co-created in 2017 by UNDP and Citi Foundation, Youth Co: Lab is the largest youth movement in Asia and the Pacific, with its presence in over 28 countries.
In India, launched in collaboration with Atal Innovation Mission, Youth Co:Lab is a one-of-its-kind social entrepreneurship initiative promoting young people's ideas and start-ups. Over the years, it has conducted four national innovation challenges and dialogues and supported over 250 young social entrepreneurs to scale their social enterprises through mentorship and grant support.
Sanghi has been a youth leader and supporter of child rights and women empowerment and has lent her voice to various social campaigns. With UNDP, Sanghi will actively encourage young people to participate in activities of the Youth Co: Lab India 2022-23. Further, she will also support other UNDP youth innovation initiatives, such as the social entrepreneurship boot camp on SDGs for budding innovators, in partnership with Makers Asylum, UNESCO, and Better India.
"The world today is facing multiple crises. Young people need to lead action as the present and future of the world. Serving as a youth advocate for child education for the past 7 years, I have personally witnessed how the youth have the ideas and potential to drive change through their innovative yet replicable ideas. Working with the youth for several social campaigns has first hand allowed me to see the change that collective action can bring forth. I am truly humbled and honored with the opportunity to work with UNDP in engaging young minds and helping promote their social entrepreneurship ideas to drive change," says Sanjana Sanghi.
Welcoming Sanghi, Mr. Dennis Curry, Deputy Resident Representative, UNDP India, said, "India is the world's youngest nation, and at UNDP, we believe this presents an opportunity to accelerate the country's growth and development by tapping into their potential. The Youth Co:Lab initiative provides a nourishing ecosystem for young social entrepreneurs to scale up their initiatives. With Sanjana and young people at the forefront, we look forward to finding solutions to India's most pressing issues through social entrepreneurship and innovation."
Since its inception globally, the Youth Co: Lab has engaged 200,000 young people from 28 countries, benefitted over 11,000 young social entrepreneurs, and helped launch or improve over 1,240 social enterprises, with a particular focus on underserved communities.
NOTES TO THE EDITOR
About UNDP India
UNDP has worked in India since 1951 in almost all areas of human development, from systems and institutional strengthening to inclusive growth and sustainable livelihoods, as well as sustainable energy, environment, and resilience. UNDP's programmes fully integrate a global vision for catalytic change with India's national priorities. With over 30 projects on the ground in almost every state, today, UNDP India works to achieve Sustainable Development Goals by transforming traditional models to do development differently.
Youth Co: Lab
Co-created in 2017 by UNDP and the Citi Foundation, Youth Co: Lab is a multi-dimensional and multi-level response to tackle the challenges young people face by positioning youth at the forefront in finding solutions to global challenges tackling Sustainable Development Goals (SDGs). Youth Co: Lab aims to establish a common agenda for Asia-Pacific countries to invest in and empower youth to accelerate the implementation of the SDGs through leadership, social innovation, and entrepreneurship.
Accelerator Labs
The Accelerator Lab network, our flagship innovation network, is active in 115 countries and has influenced UNDP's organizational culture to become more agile in the face of uncertainty. Thanks to the visionary support of Germany and Qatar, the UNDP Accelerator Labs Network continuously creates new capabilities to reimagine and help drive development for the 21st Century.
Atal Innovation Mission
Atal Innovation Mission (AIM) is the Government of India's flagship initiative to create and promote a culture of innovation and entrepreneurship across the length and breadth of our country. AIM's objective is to develop new programmes and policies for fostering innovation in different sectors of the economy, provide platforms and collaboration opportunities for different stakeholders, and create an umbrella structure to oversee the innovation & entrepreneurship ecosystem of the country.
Makers Asylum
Incepted in 2013, Maker's Asylum is India's first community maker space focused on fostering innovation through purpose-based learning aligned with the Sustainable
Development Goals. Through their flagship- SDG School programme, they offer a systematic journey from idea to impact for accelerated innovation for changemakers. Makers learn of the global socio-economic challenges and problem-solve grassroots issues using agile techniques, tools, and multidisciplinary teams.