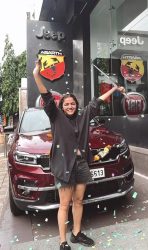 Wamiqa Gabbi, the talented actress who made a mark in the Hindi film industry, has treated herself to a well-deserved gift after the resounding success of her web show, "Jubilee." This milestone accomplishment has propelled her career to new heights, prompting her to purchase her very first car, a Jeep Meridian.
Having made the decision to relocate to Mumbai a few years ago, Wamiqa Gabbi has strived tirelessly to establish herself in the competitive world of Hindi cinema. Her unwavering dedication, exceptional talent, and remarkable performances have earned her recognition and acclaim in the industry. With the success of "Jubilee," Wamiqa has not only solidified her presence in the digital space but has also garnered a significant fan following.
The decision to gift herself a brand new car signifies a major personal milestone for Wamiqa Gabbi. The Jeep Meridian, known for its elegance, style, and performance, perfectly reflects her own journey in the entertainment industry. This luxurious vehicle represents the culmination of her hard work, passion, and dedication to her craft.
Wamiqa Gabbi expressed her joy and gratitude, stating, "I am overwhelmed with the love and support I have received for 'Jubilee.' It has been an incredible journey, and I am thrilled to celebrate this success by purchasing my first brand new car, the Jeep Meridian. This vehicle represents a symbol of my perseverance and serves as a reminder of the incredible opportunities that lie ahead."
The success of "Jubilee" has opened new doors for Wamiqa Gabbi, placing her among the most promising talents in the Hindi film industry. The actress is all set to be seen in Vishal Bhardwaj's debut series, Charlie Chopra and Mystery of the Solang Valley and Khufiya.