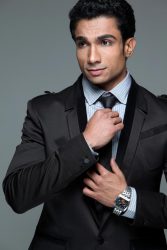 In the realm of fitness, where personal trainers abound, there are rare individuals like Vaibhav Chauhan who defy convention and redefine what it means to be a fitness trainer. With his unique journey and unwavering passion, Vaibhav has become a beacon of inspiration for those seeking transformation and a healthier lifestyle.
Hailing from Delhi, Vaibhav Chauhan has an extraordinary story that sets him apart from traditional fitness trainers. Born on September 5th, 1984, he initially pursued a career in software engineering, accumulating 15 years of experience, including a remarkable year working in the United States. Throughout his professional journey, he worked with prestigious international clients such as T-Mobile, AT&T, and Amazon, showcasing his technical prowess and determination to excel.
But Vaibhav's life took an unexpected turn when he encountered a life-altering accident on October 24th, 2004. Despite the hardships he endured, including a fractured shoulder and severe damage to his left leg, Vaibhav's resilience shone through. Overcoming numerous surgeries and a lengthy recovery period, he emerged stronger and with an unyielding spirit.
It was during this transformative period that Vaibhav Chauhan discovered his true calling – fitness. Drawing from his own experience of rebuilding his body and overcoming physical challenges, he decided to share his knowledge and inspire others on their own fitness journeys.
With a wealth of personal experience in fitness, including 22 years of workout experience and 10 years of training expertise, Vaibhav Chauhan became a fitness trainer with a difference. Specializing in Strength & Mobility, Fat Loss, and Body Recomposition, he tailors his training programs to the unique needs of each individual. He goes beyond the traditional approach of sets and repetitions, focusing on holistic well-being and empowering his clients to make sustainable lifestyle changes.
What sets Vaibhav apart as a fitness trainer is his empathy, understanding, and ability to connect with his clients on a deeper level. His personal journey of overcoming adversity and rebuilding his body fuels his desire to help others realize their full potential. He inspires them to embrace the transformative power of fitness not just for physical gains but also for mental and emotional well-being.
Vaibhav Chauhan's unconventional approach extends beyond the gym walls. He believes that true transformation is a result of a balanced and holistic lifestyle. He emphasizes the importance of nutrition, mindset, and self-care, guiding his clients towards making long-lasting positive changes.
As a devoted family man, Vaibhav Chauhan understands the challenges of juggling responsibilities and maintaining a healthy lifestyle. He is a loving husband, married to his college friend for 14 years, and a proud father to a nine-year-old son. He leads by example, proving that with dedication and determination, one can achieve personal and professional success while prioritizing family and overall well-being.
Vaibhav Chauhan's journey as a fitness trainer is a testament to the power of resilience, determination, and the pursuit of a purpose-driven life. Through his unique experiences, he has emerged as a source of inspiration for those seeking transformation and a healthier lifestyle. By combining his technical expertise, personal journey, and unwavering dedication, Vaibhav continues to make a positive impact in the lives of his clients, guiding them towards reaching their fitness goals and unlocking their true potential.
In the realm of fitness training, Vaibhav Chauhan stands out as an exceptional individual who has transformed adversity into an opportunity to inspire and uplift others. His story serves as a reminder that true transformation is not limited to physical achievements but is also about embracing one's inner strength and living life with passion and purpose