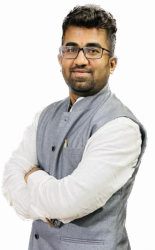 [Noida, India, 14 Sep'2023] – In a remarkable recognition of excellence, Prateek Kr. Bhowmick, a distinguished entrepreneur and the driving force behind ReviewAdda.com, has been honored by the Punjab Government for the exceptional achievement of securing the highest number of admissions in the state. This prestigious accolade acknowledges not only Prateek Kr. Bhowmick's visionary leadership but also the transformative impact of ReviewAdda.com on the landscape of higher education admissions in Punjab.
Under Prateek Kr. Bhowmick's visionary guidance, ReviewAdda.com, has revolutionized the college admissions process, rendering it highly accessible and efficient for students across the nation. The platform's unrelenting dedication to quality and creative solutions has propelled it to the forefront of the education technology market.
The acknowledgment granted by the Punjab Government stands as solid evidence of ReviewAdda.com's significant influence on the education sector within the state. This influence is particularly noteworthy in simplifying the admissions process and offering invaluable assistance to ambitious students as they strive for higher education.
About Prateek Kr. Bhowmick:
Prateek Kr. Bhowmick, a visionary entrepreneur and angel investor, has long been a driving force in the Indian startup ecosystem. His journey in the world of startups began with his involvement in India's ed-tech startup, Vriti, which was backed by Intel Capital and Jafco Asia. During this initial phase of his professional journey, Prateek had the privilege of meeting Rahul Jain, who would later become his co-founder at ReviewAdda.com. Rahul brought a wealth of business knowledge and shared Prateek's enthusiasm for technology to the partnership.
By chance, they met and decided to create ReviewAdda.com in 2013. It's a website that has helped more than 36,000 students get into both famous and not-so-famous colleges in India. Prateek Kr. Bhowmick's unwavering commitment to his vision, coupled with his profound knowledge of the education sector, has been instrumental in the platform's success.
ReviewAdda.com: Transforming Higher Education Admissions
ReviewAdda.com, co-founded by Prateek Kr. Bhowmick and Rahul Jain, emerged as a game-changer in the field of higher education admissions. The platform revolutionized the traditional admissions process by offering students and parents a streamlined, paperless approach to securing admissions in their desired universities and colleges. With just a single click, applicants can apply to multiple institutions, significantly reducing the bureaucratic hurdles and complexities associated with college admissions.
The platform's unique features, including its patented technology, have made it a preferred choice for thousands of students seeking their dream colleges. It provides valuable insights into the best-fit colleges based on a student's academic achievements, location, peer network, mother tongue, budget, and reputation.
The Punjab Government's Recognition: A Milestone Achievement
The accolade bestowed upon Prateek Kr. Bhowmick and ReviewAdda.com by the Punjab Government holds immense significance in the context of the state's burgeoning startup ecosystem. Punjab has been witnessing a surge in entrepreneurial activity, fueled by a young and dynamic population, and a government committed to creating a conducive environment for startups. This recognition reaffirms the pivotal role that ReviewAdda.com has played in advancing the education technology sector in Punjab.
Prateek Kr. Bhowmick's Visionary Leadership:
Prateek Kr. Bhowmick's entrepreneurial journey has been characterized by a relentless pursuit of excellence and innovation. His dedication to ReviewAdda.com extends beyond its day-to-day operations. Prateek actively invests in early-stage startups, leveraging his experience and expertise to guide aspiring entrepreneurs. He firmly believes in the transformative power of learning from failures and the synergy of having the right concept, the right market, the right execution, the right timing, and the right team.
A Bright Future Ahead:
As Prateek Kr. Bhowmick and ReviewAdda.com are honored by the Punjab Government for their remarkable achievements, the future holds even greater promise. Prateek envisions ReviewAdda.com expanding its footprint and further enhancing its services, making college admissions more accessible and efficient for students not only in Punjab but across the country.
Prateek Kr. Bhowmick's journey and ReviewAdda.com's success story continue to inspire and pave the way for aspiring entrepreneurs and startups in the education technology sector.