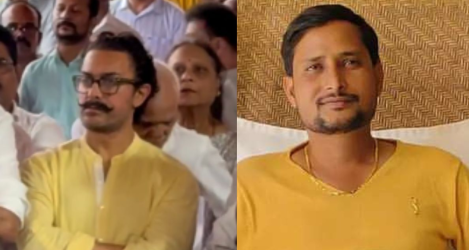 The cinema world was left in utter shock on August 2 when the renowned Bollywood art director, Nitin Desai, tragically took his own life. Nitin Desai's passing cast a somber shadow over the entire industry, leaving everyone in disbelief as he was lifeless in his ND studio.
During a candid conversation with Raj Jagatsinh, he expressed his deep concern, stating that most suicides happen due to economic hardships and various other reasons, which are both shocking and distressing. Nitin Desai had a close association with Aamir Khan, who was aware of his financial struggles. Nitin had been grappling with a severe financial crisis for some time, burdened with crores of rupees in debt. Surprisingly, despite their awareness, no actor came forward to extend a helping hand. Raj Jagatsinh firmly believes that actors, including Aamir Khan, should support and respect their fellow actors and offer assistance in times of need, eliminating the need for anyone to take such drastic steps.
Raj Jagatsingh didn't hold back his anger towards Aamir Khan, criticizing him for not showing any humanity towards Nitin Desai while he was alive. Pictures of Aamir Khan at Nitin Desai's final tribute have gone viral on social media, igniting emotions among fans and industry insiders. Raj Jagatsinh firmly believes that if Aamir Khan had displayed even a shred of compassion and assistance during Nitin Ji's life, the tragic event of his death might have been averted.
Nitin Desai had been grappling with financial difficulties for a prolonged period, burdened with a staggering loan of 250 crores. After acquiring ND Studio, he secured a loan of Rs. 180 crores from a lending company between 2016 and 2018. However, due to the overwhelming financial strain, he found it impossible to repay the loan, which tragically led to his untimely demise.
It's important to mention that Raj Jagatsinh is a renowned producer and writer who has garnered recognition and good wishes from none other than Prime Minister Narendra Modi and Gujarat Chief Minister Bhupendra Patel for his poetry. Currently, he is making headlines for his strong opinions concerning Aamir Khan's involvement in Nitin Desai's tragedy