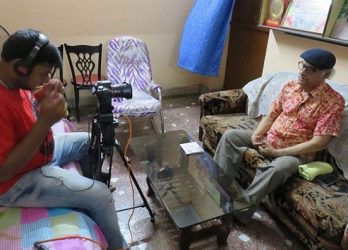 Kolkata – The legacy of the legendary Violin Maestro, Rabin Ghosh, is set to be commemorated in a groundbreaking documentary that celebrates his exceptional musical journey and groundbreaking achievements. Rabin Ghosh, the last Violin disciple of Baba Ustad Allauddin Khan Saheb, was not only a masterful musician but also a revered Violin Guru, training countless pupils in the art of classical music.
Independent film director Hreek Mukherjee has taken up the challenge to showcase this extraordinary life through his directorial venture. "We have been fascinated by the life and achievements of Shri Rabin Ghosh and felt that the only way to do justice to retelling this for generations ahead is through a documentary" said Hreek.
Born into a family with a rich musical heritage, Rabin Ghosh was profoundly influenced by the musical atmosphere that surrounded him. With his father, an Engineer and a skilled Flute and Esraj player, Rabin was exposed to various musical instruments from an early age. He explored the realms of Esraj, Flute, and Tabla before ultimately choosing to pursue the Violin. Under the guidance of Pandit Haripada Chattopadhyay, Rabin's journey into the world of music began.
In the year 1955, Rabin Ghosh's life took a transformative turn when he became a disciple of the eminent Baba Allauddin Khan Saheb, in the esteemed Maihar tradition. This marked the beginning of his extraordinary contributions to the world of music, leading him to make groundbreaking discoveries and innovations that would leave an indelible mark on Indian Classical Music.
Among Rabin Ghosh's numerous contributions, he introduced the revolutionary concept of the 5th string Violin in Indian Classical Music, expanding the instrument's range and melodic possibilities. Furthermore, he designed his own unique Violin, with only seven of these masterpieces ever crafted, signifying their rare and treasured nature.
In a pioneering approach to playing the Violin, Rabin Ghosh invented a distinctive style by placing the violin scroll above the violin case, offering a fresh perspective and sound to the instrument. This innovation showcased his creative genius and further solidified his place as a true musical visionary.
Hailing from the illustrious Senia-Maihar Gharana, Rabin Ghosh was not only an exceptional performer and composer but also a devoted educator. He shared his profound knowledge and expertise with thousands of pupils throughout his career, leaving an enduring impact on the next generation of musicians.
Despite his remarkable achievements, Rabin Ghosh did not always receive the recognition he deserved, and his groundbreaking work faced attempts at appropriation. However, his influence and legacy remain steadfast, continuing to inspire countless musicians and music enthusiasts around the world.
In celebration of Rabin Ghosh's extraordinary musical journey, a dedicated team has spent a decade crafting a documentary that delves deep into the life, accomplishments, and enduring impact of this iconic maestro. The film explores his musical lineage, his association with prestigious institutions like Ali Akbar College of Music and Rabindra Bharati University, and his innovative compositions, including the mesmerizing 'Someswara Tala,' inspired by the dancing posture of Nataraj.
Rabin Ghosh's artistic brilliance and profound contribution to Indian Classical Music will be eternally cherished through this documentary. It will serve as a heartfelt tribute to a musical genius whose profound influence will resonate for generations to come.