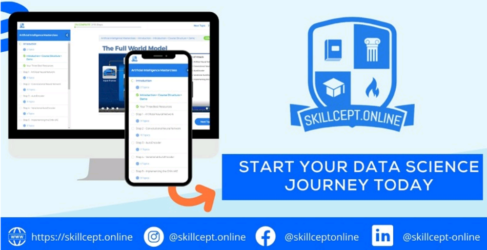 Data Science professionals are in demand both in India and abroad. As per The World Economic Forum, Data Scientists and Analysts will become the Number 1 emerging role in the world by 2022. Han Digital, a leading Talent consulting firm, estimates that by 2025, demand for Data Science-related jobs will be three times that of the current market trend.
Skillcept.Online offers Data Scientist training that is intended to be a springboard for professionals looking for a job in Data Science and also for existing Data Science professionals who are looking to upgrade their skills.
You Don't have to go and pay separately for Python, Data Science, Artificial Intelligence, Business Analytics, and Deep Learning. At Skillcept.Online, you can learn all domains of Data Science at an Affordable Price, starting at Rs. 12,000.
Scholarships upto 70% are also available for deserving students. Skillcept.Online is one of the best learning platforms to Launch Your Career in Data Science with 10+ Verifiable Certificates.
Skillcept.Online is one of India's largest Data Science learning platforms, offering specialized courses to train operational, autonomous, and efficient professionals.  With over 10+ courses and 2000+ exercises, Skillcept.Online provides the most comprehensive training program, giving you solid foundations in Mathematics (statistics, probability), all pre-requisite, and domains of Data Science which all are covered in one Platform Subscription.
"Our Primary Mission is to Democratize Access to high-quality Data Science education. Our Platform offers all the training content you need to master Data Science. Our training covers all the 6 pillars of Data Science -Statistics, Mathematics, Data Visualization, Programming, Machine & Deep Learning, and Artificial Intelligence", quote from Founding Team of Skillcept.Online.
Skillcept.Online is an ideal place to study Data Science and related concepts, thanks to its large research teams in the field. Detailed courses by Industry experts will give you the opportunity to learn Data Science by doing research and prepare you for a successful career in Data Science Domain.
Skillcept.Online courses are designed to guide the learners to tackle the scientific and technological challenges of our time related to Data Science and Artificial Intelligence.
Skillcept.Online courses and certifications provide 30 Assured job opportunities after course completion and also provide lifetime access to the course library and future updates of new technologies in Data Science for free to all subscribers. Data Science professionals need to constantly upgrade themselves if they want to be competitive and grow in the field of Data Science, and Skillcept.Online is the first platform in the world that will be providing lifetime updates of its courses at no additional cost.
"We are not driven by profit; we want students and professionals to master Data Science without paying a fortune. We offer a one-stop-destination for launching and growing your career in Data Science, Machine Learning, and other related fields", says Founding Team of Skillcept.Online.
The aim of Skillcept.Online is to train the professionals of Data Science and analysis, for positions such as Data Analyst, Data Scientist, or even Big Data Expert, AI Expert and 100+ more. They put the business at the heart of the training and provide learners with skills that they will use and develop in business.
Recently Skillcept.Online trained 80,000 Freshers for free and helped them to get placed in various prestigious companies in India and abroad. This activity was carried as part of their Corporate Social Responsibility. Driven by its mission to make professionals independent and more skilled, Skillcept.Online also provides SCHOLARSHIPS AND PAY AFTER PLACEMENT SERVICES TO TALENTED FRESHMAN
"OUR AIM IS NOT TO CREATE REVENUE BUT TO MAKE PEOPLE SKILLED ENOUGH SO THAT THEY CAN ALSO DO THE SAME FOR OTHERS", says Founding Team of Skillcept.Online.
Skillcept.Online recently got funded by undisclosed investors and it is looking to expand its library exponentially within the next few months. Skillcept.Online aims to place 100,000 learners by April 2022.
For more details visit: https://skillcept.online/