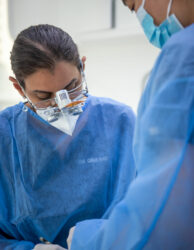 The Clinic, which currently is celebrating its 10th year, offers the highest standards of patient care and comfort, which is amongst the best in the UAE.
Sky Clinic Dental Center is a renowned dental center that has been providing excellent, high-quality dental care to its patients since 2013. Founded by renowned dentists – Dr. Maximilian Riewer, Dr. Rabih Mahfouz and Dr Rabih Abi Nader. The clinic has become a trusted source for dental health in the community. With a dedicated team of experienced professionals, the clinic boasts an impressive array of services, state-of-the-art facilities, and experienced dentists who remain up to date on the latest technologies and treatments available. Sky Clinic Dental Center is committed to providing its patients with the highest quality of dental care, as well as a compassionate, individualized approach.
The clinic is committed to providing top-notch dental care, with a focus on preventive and corrective treatments for a wide range of dental problems. "Our team of skilled professionals uses the latest technology and techniques in order to offer the highest quality of dental service. We also take the time to understand our patients' needs and strive to make sure they are comfortable and satisfied with the care they receive. Our commitment to excellence has earned us a reputation as one of the most reliable and respected dental clinics in the UAE," says Dr. Maximilian, who is the CEO of the center, and is a well-known figure among the German community in Dubai, known for his active participation in local German events. The team is excited as they are celebrating their 10th year in the industry and have so far imprinted a prominent mark of theirs as a top dental center.
Dr. Rabih Mahfouz, is a partner and specialist orthodontist with over 15 years of experience. He began his career with traditional orthodontics such as metal and ceramic braces, and has adapted new technologies like invisible clear aligners to improve patients' smiles and teeth alignment. Whereas, Dr. Rabih Abi Nader who serves as the Medical Director, is a highly accomplished implantologist and oral surgeon, having earned a multitude of prestigious accolades. His 400+ implants per year and near-perfect success rate have cemented his reputation as one of the foremost implantologists in the United Arab Emirates.
Sky Clinic Dental Center is a sister concern of Dubai Sky Clinic, which has been providing professional care since 2007. The center currently has eight dentists, including a Specialist Endodontist and Prosthodontist. "Our facility is equipped with the latest and most advanced dental equipment, including 3D Panoramic X-rays and Intraoral scans. We guarantee a professional and comprehensive dental service to all our patients. Our mission is to deliver superior dental services to our patients at an affordable rate. Our dentists possess extensive expertise in their respective areas of specialty," informs Dr. Rabih Abi Nader.
The Clinic offers personalized care and treatment to each patient from initial contact through post-treatment procedures. Their highly trained and friendly staff and doctors ensure that all patients, no matter how major or minor their procedure, are provided with exceptional care, and that's what makes them one of the most preferred clinics in the UAE when it comes to dental care.