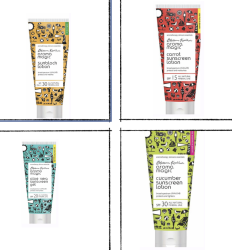 New Delhi, 2023:Indoors or outdoors, wearing sunscreen is a must! Sunscreens help protect you from harmful UV rays and are crucial to keeping your skin healthy. It is not noticeable at first, but it will pay off long-term.
Summer, winter, autumn, or fall, Blossom Kochhar Aroma Magic all-mineral sunscreen range will provide sun protection to you all.
Cucumber Sunscreen Lotion
Skin friendly lotion enriched with Wheat Germ, Coconut and Soybean oils, cucumber sunscreen provides natural sun safety, Vitamins B5, C and E prevent visible signs of aging. Cucumber extracts cool, soothes sunburn and provides smart sun protection. It is not made of harmful chemicals, parabens, alcohol, artificial fragrance & color.
50ML / 100ML
Rs.180/325
 Aloe Vera Sunscreen Gel
Sunscreen gel is enriched with Wheatgerm, Avocado and Grapeseed oils. Aloe Vera extracts, hydrates, purifies and provides smart sun protection. It lightens scars and soothes skin.
50ML / 100ML
Rs.180/325
Carrot Sunscreen Lotion
Notes of Lavender, Chamomile and Myrrh essential oils in carrot sunscreen lotion moisturize, soothe and protect your skin. Carrot extracts fortify skin cells and provide smart sun protection.
50ML / 100ML
Rs.115 /175
Sunblock Lotion
All-mineral, ultra effective formula creates a physical barrier. Calendula and Roman chamomile essential oils heal scars and mattify your skin. Green tea extracts promote elasticity and provide smart sun protection.
50ML / 100ML
Rs.210 /375