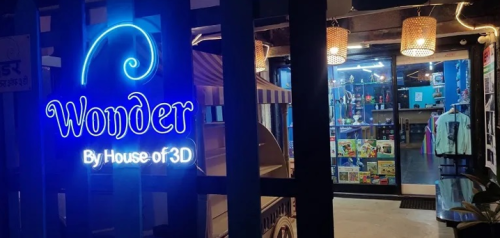 Mumbai – In a thrilling fusion of retail therapy and coffee culture, House of 3D has taken the concept of the traditional coffee shop to soaring new heights with the grand opening of "Wonder By House of 3D."
This visionary establishment is the first of its kind, offering an immersive superhero-themed retail experience and a cozy atmosphere to sip on the unique "Selficino" coffee blend. Mumbai's residents and visitors alike are in for an unparalleled journey into the world of capes, masks, and aromatic brews.
Located in the heart of Bandra West, "Wonder By House of 3D" promises to be more than just a coffee shop; it's an oasis for superhero enthusiasts and coffee connoisseurs alike. The brainchild of visionary entrepreneurs, this establishment aims to provide a one-of-a-kind experience that appeals to the imagination and the palate simultaneously.
Retail Extravaganza
Upon entering "Wonder," patrons are transported into a realm where comic book dreams come to life. The store is a treasure trove of superhero memorabilia, action figures, clothing, and collectibles from all corners of the superhero universe. Whether you're a fan of the classics like Superman and Batman or newer heroes like Captain Marvel and Black Panther, you'll find something to satisfy your superhero cravings.
House of 3D has always been about pushing boundaries and creating immersive experiences," said CEO Aditya Anand. "With 'Wonder,' we're bringing the excitement and nostalgia of superheroes into the real world. It's a place where fans can indulge in their passion and discover unique items to add to their collections." Or have them 3D printed.
The Selficino Experience
While exploring the superhero wonderland, visitors can enjoy the ultimate coffee experience with House of 3D's exclusive "Selficino" blend. Crafted to perfection by expert baristas, the Selficino combines the richness of espresso with a touch of magic – a secret House of 3D recipe that has coffee lovers buzzing with anticipation.
"The Selficino is a blend like no other," said Retail-Manager Surbhe Paurush . "We've spent months perfecting this brew to ensure that it complements the superhero theme of 'Wonder.' It's the ideal companion as you lose yourself in the world of comics and collectibles."
The Ambience
"Wonder By House of 3D" doesn't just stop at retail and coffee; it offers an ambient atmosphere that's second to none. The space is designed to mimic iconic superhero hideouts, complete with thematic decor, art installations. It's a place where you can sip your Selficino surrounded by your favorite superheroes, making it a haven for fans of all ages.
The grand opening event was attended by a star-studded cast of local and national celebrities, all eager to experience the wonder that is "Wonder." From superhero cosplayers to comic book writers and artists, the event captured the hearts of attendees and generated considerable buzz on social media.
"Wonder By House of 3D" is set to become a landmark in Mumbai, a place where the lines between fantasy and reality blur, and where every visit promises a new adventure. Whether you're a die-hard superhero enthusiast, a coffee aficionado, or simply looking for a unique and immersive experience, "Wonder" is your new destination.
So, don your favorite superhero costume or grab your coziest sweater, and head over to "Wonder By House of 3D" for an unforgettable journey into the realms of imagination and flavor. It's a place where your superpowered dreams and coffee cravings converge, ensuring that every visit is a true wonder.