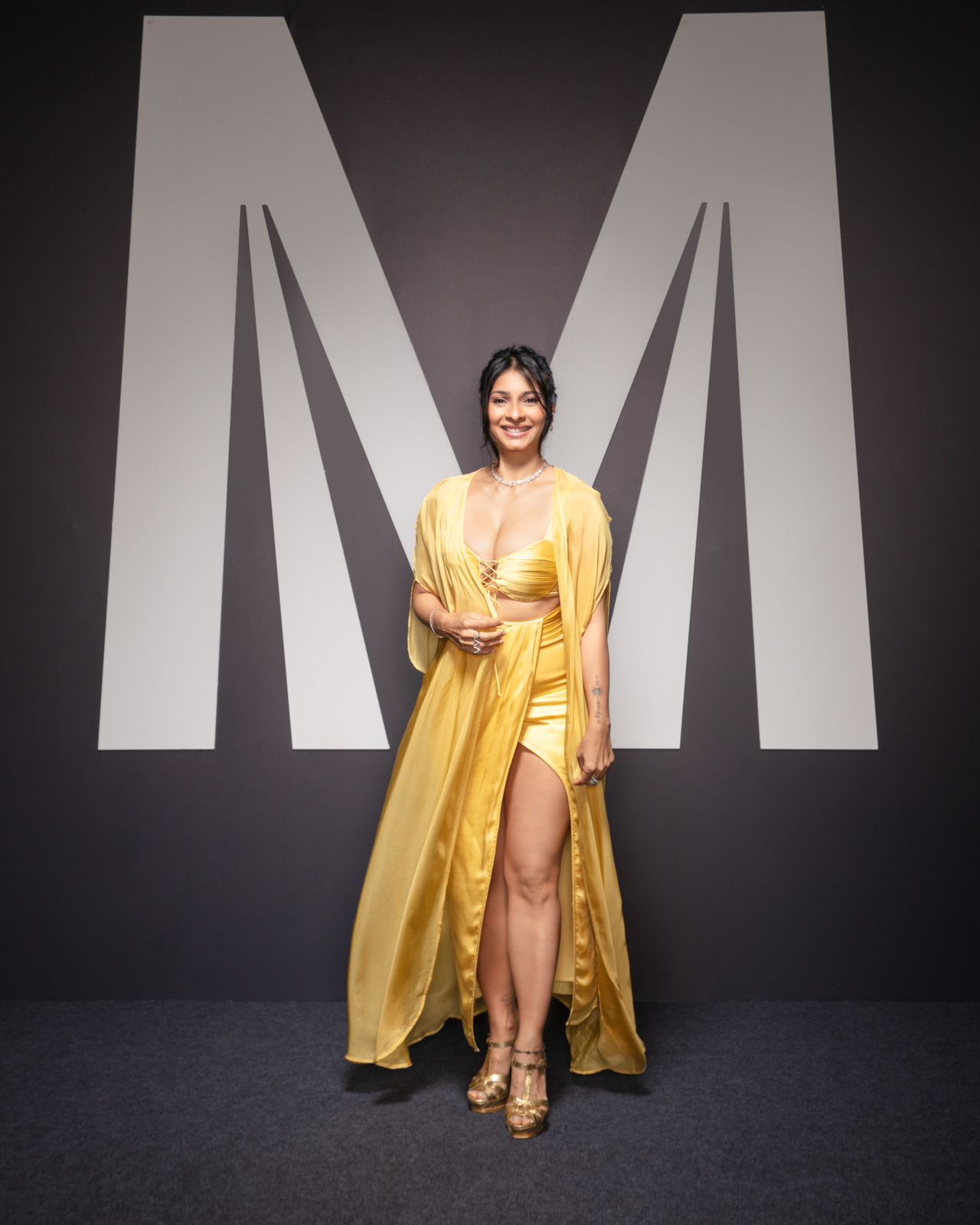 Actress Tanishaa Mukerji recently at a fashion show looked sexy and gorgeous as ever . She dazzled in a beautiful yellow, plunging neckline flowy outfit with slits and shared stunning pictures of herself on her social media handle. Her minimalistic natural appearance enhances her charm and personality even further. She accessorised her look with silver jewellery and shiny golden stilletos and well, she did complete justice to her yellow vibes. She also spoke about how romance has always been synonymous to the fashion show and that was a big reason behind sporting the look that she chose for that day. Her pictures started to go viral in no time. Her look is the perfect blend of hotness and sensuality compiled with cuteness and happy vibes and that's a deadly combination indeed for any girl. Her avatar broke the internet in no time and we aren't surprised. We are absolutely in awe of her fitness quotient and we love the way she smartly selects her outfit to flaunt that with exuberance.
Tanishaa ensures that she maintains a disciplined lifestyle in terms of fitness and workout and also takes care of her diet. Her efforts in the gym compiled with her eating habit keeps her 'fit and fab' all the time.
While she might be very particular about her fitness, there's no element of judgement in her personality. Tanishaa is someone who has always been a flagbearer of body positivity and she believes that beauty comes in all shapes, sizes and forms. No wonder, her way of life inspires many women around her to sizzle the way they are. Regarding her thoughts on the ansame, she shares,
"I have always been someone who has never paid any heed to judgements and external validation. I only listen to my heart and that has always worked for me. For me, fitness is a way of life that I need to take care of daily. Having said that, I feel it's horribly wrong to impose your opinion on someone and bodyshane someone just because they look a certain way. While fitness is anyday important, it is a personal choice and no one should be insulted for not adhering to it."
Kudos to Tanishaa for being the public figure that she is and inspiring people with the right beliefs and thoughts. Once again, she's proven with perfection that nothing is truly sexier than confidence and a healthy, progressive state of mind. On the work front, Tanishaa who has earlier created impact with projects like Neal 'n' Nikki, Tango Charlie, Code Name Abdul, Sarkar, Sarkar Raj, One Two Three, and many others has interesting projects in the pipeline and we are super excited for the announcements. Stay tuned for more updates and more stunning snaps from her end on her social media handle.