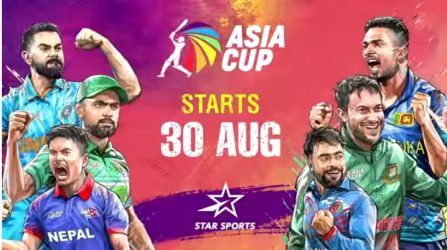 Bangalore, August 08, 2023: The spirit of rivalry takes centre stage as the best teams from Asia converge in Sri Lanka and Pakistan for the much-awaited Asia Cup 2023. Fans across India can watch all the matches from 3.00 pm (IST) LIVE & Exclusive on the Star Sports Network and Disney+ Hotstar from August 30th to September 17th, 2023. Capitalising on the heightened fanfare and excitement ahead of the tournament, Star Sports, India's leading sports broadcaster, unveils its campaign that puts the hearts of 1.6 billion fans at the core.
Link to the campaign film: YouTube , Twitter
The film, conceptualised by the in-house team at Disney Star, pays tribute to the everlasting and unwavering dedication and passion of the fans. With Hands Up in support of Team India, they create an awe-inspiring spectacle, a vivid tapestry of colours and chants, standing tall in times of both grief and happiness. Through triumphs and defeats, they stand united behind their favourite teams and players, an unbreakable bond forged by the love for the game. Their cheers reverberate through stadiums, transcending barriers of language and culture, to become a universal language of celebration and encouragement. In moments of sorrow, they offer solace and understanding, reminding players that they are more than competitors—they are heroes in the eyes of millions. In times of elation, the fans' euphoria knows no bounds, showering their stars with adoration, turning stadiums into cathedrals of joy.
Speaking about the campaign film for the Asia Cup 2023, a Star Sports Spokesperson said, "As we unveil the electrifying Asia Cup Campaign, we are geared up to bring the whole nation together to passionately Believe in Blue! The campaign film is a majestic symphony that resonates with the undying spirit of fans – a tribute to their eternal devotion and unwavering fervor. The Asia Cup is undeniably the biggest tournament before the ICC ODI World Cup graces our home soil, and we, at Star Sports, are committed to delivering the most exhilarating live action. Get ready India, for the colossal ODI Festival ahead, where we will celebrate triumphs, showcase talent, and revel in the glory of our cricketing heroes!"
The Asia Cup 2023 will feature a total of six teams – five Test-playing nations from the continent – India, Bangladesh, Sri Lanka, Pakistan, and Afghanistan have earned direct qualification to the tournament with Nepal scripting history as they pipped UAE in the qualification rounds for a place in the main event. All eyes will be glued on the Rohit Sharma-led Team India as they eye an unprecedented eighth title stamping their authority in the continent before the ICC Men's Cricket World Cup later this year.
Catch all the action from the Asia Cup 2023, August 30th – September 17th, 2023, 3.00 pm (IST) onwards, LIVE & Exclusive on the Star Sports Network and Disney+ Hotstar
Watch India vs Pakistan on 2nd September 2023 from 3.00 pm (IST), LIVE & Exclusive on the Star Sports Network and Disney+ Hotstar